Rogic: Celtic US match would be "innovative" way to sell Scottish game
Dundee have approached the SPFL over a US-based Premierhsip game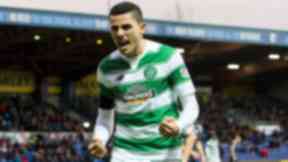 Celtic midfielder Tom Rogic believes a Premiership match played in the United States would be an innovative way to promote the Scottish game.
STV revealed on Monday that Dundee have held preliminary talks with the Scottish Professional Football League about the possibility of playing a league match with Celtic in either Boston or Philadelphia.
Rogic, who joined Celtic from Australian side Central Coast Mariners, thinks it would be a great way to bring his team to the world stage and allow foreign fans to see their favourite club.
He said: "I guess it's an innovative way to expand the game on the world stage. To promote it a little bit more.
"Obviously Celtic has a massive fanbase and it would be fantastic to give some fans over there the chance to see us play and hopefully perform."
"Obviously you know about the Old Firm when you're younger," Rogic added, when asked how aware he was of the Glasgow side growing up in Australia.
"You definitely know about the size of the club."
He added: "It's a good opportunity to expand the game and I guess broadcast Scottish football on a world stage."
Dundee confirm talks with Celtic over possible US match
Meanwhile Dundee confirmed that they are indeed pursuing the chance of playing in the United States, calling it a "fantastic opportunity" for the club.
The Dens Park side are currently owned by Texas-based business partners Tim Keyes and John Nelms, who took ownership of the Premiership side in 2013.
In a statement on Tuesday, the club said: "We can confirm that Dundee Football Club and Celtic Football Club have had initial discussions about the possibility of playing a fixture in the United States of America.
"The proposal is very much is in its early stages and of course the relevant approvals would be sought from the SPFL Board at the appropriate time.
"As a club we are always looking to bring new ideas to the table and should this progress we firmly believe it will be a fantastic opportunity for Dundee, Celtic and Scottish football as a whole."
FIFA could intervene on Celtic and Dundee US plans
Celtic and Dundee might have their plans to play a Scottish Premiership match in the United Stated halted by FIFA after the governing body warned they could have the final say.
An official request has not yet been lodged but FIFA say they could step in to rule on plans. It comes after the Scottish Professional Football League also confirmed they would have a say on the matter.
In a statement given to Press Association Sport, the world game's governing body said: "In accordance with the FIFA Regulations Governing International Matches, any such match could only be played if approved by the member associations and confederations concerned.
"Further, according to art. 82.4 of the FIFA Statutes, FIFA may take in any case a final decision. For the time being we have not been contacted with regard to the specific proposal referred to and therefore we are not in a position to comment further."
"First and foremost this is a matter for the national associations concerned and for FIFA. But it must be remembered that the framework of the game worldwide is based on association football and the rules and boundaries which apply.
"As a result, clubs cannot simply choose which country they want to play in. There are rules in place and procedures which need to be respected."