Gary Mackay-Steven: I want Hampden glory after 'awkward' cup final
The winger was torn between who to support in last season's League Cup Final.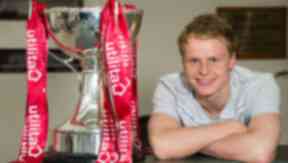 Gary Mackay-Steven is determined to help Celtic book their place in the League Cup Final to help make up for his own "awkward" experience of missing out last season.
The winger was named Man of the Match in Dundee United's 2-1 semi-final win over Aberdeen last January but signed for Celtic 48 hours later on transfer deadline day.
As a result he was then cup-tied for the Hampden showdown on March 15, as his former side and new team-mates went head-to-head for the silverware.
Mackay-Steven admits it was a strange experience and on hindsight, had he been given the choice, he wouldn't have been in the stadium that afternoon.
"It was one of these things I'd rather have not been there for," he said. "The team were celebrating on the pitch, I was there but I wasn't really celebrating as such.
"I was happy for the boys but I was just standing there awkward, the cameras were quite often on me as well so it was weird."
Mackay-Steven had already signed a pre-contract with Celtic by the time the League Cup semi-finals were played but made the move six months early, when he and Stuart Armstrong were bought just hours before the window closed.
Having been so involved in United's road to Hampden, the 25-year-old went on to share how difficult it was to not only watch the match, but also not get the chance to play in it.
"I wasn't sure who I really wanted to win that game if I'm being honest but hopefully now I can play my part," he said.
"You want to celebrate with your new team-mates but having gone through the whole competition with Dundee United I was a little bit sad for them.
"Having come off the park after the semi-final you think you have a cup final to look forward to, and then the way things turn out, you're not involved. It was strange but hopefully this year I can play my part in the final if we get there."