Kristoffer Ajer admits time is running out on his move to Celtic
The 17-year-old spent time training on trial with the Scottish champions earlier this month.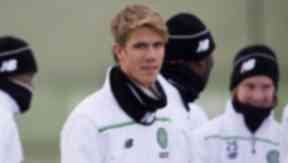 Norwegian midfielder Kristoffer Ajer admits that time is running out if he is to complete a move to Celtic.
The 17-year-old midfielder spent time on trial with Ronny Deila's side earlier this month, with the player confirming that talks are continuing between Celtic and Start.
"They are talking, and I have actually received very little information," the teenager told newspaper Faedrelandsvennen.
"The window closes soon, and if it should happen, it must happen quickly.
"It would be fantastic to get such a chance [to play for Celtic]," he said. "It is a top team that wants me, so it had obviously been fun."
"But I won't rush it. Start is a great club to be at too, so I'll see what happens"
Ajer didn't play for Start in a friendly match against Bodo on Friday night, with club captain Rolf Daniel Vikstol admitting that the decision to leave him out could have been taken with the potential move to Celtic in mind.
Kristoffer's father - Jan Tore Ajer - believes that a deal will have to be reached between the two clubs on Saturday if the move is to be pushed through before the close of the January transfer window.
"It must really be ready for tomorrow if it is going to unravel," he said on Friday. "Medical tests need to be done, and that takes some time."