Colin Kazim-Richards brushes off bad boy tag after shock return to UK
The striker says he had no plans to play in Britain again.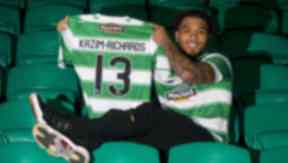 New Celtic signing Colin Kazim-Richards brushed off his controversial reputation as he made a surprise return to the UK.
The London-born Turkish international joined the Scottish champions on a two-and-a-half year deal from Eredivisie side Feyenoord.
It comes just two weeks after he was suspended by the club for allegedly threatening a Dutch journalist.
He was also once described by Motherwell boss Mark McGhee as "impossible to work with" following their time together at Brighton.
Kazim-Richards, who admitted he had no plans to play in Britain again but had a change of heart when Celtic came calling, told the Scottish media he is not concerned by others' opinions.
"I just get on with my football and it's you guys' job to do everything else," he said. "Coming to Celtic is about Celtic and then it's about Colin Kazim-Richards."
When asked if people's perceptions frustrate him, he said: "It doesn't annoy me. For me, [Lionel] Messi is the best player in the world but to you maybe he's not.
"Someone is always going to have something to say no matter what as a footballer. That's just the way the game is and that's what makes it the best and the worst game.
"You can ask 10 people who I am and you might get 10 different answers, just like any other footballer in the world. I don't think I'm any different."
"If I tell you the truth I didn't want to come back to Britain, honestly, but when this opportunity came it was an obvious decision," he added.
"The way my career has gone and me as a person, the experiences that I have had, I didn't think I could get it from anywhere in the UK.
"This is what I've been searching for, going to Galatasaray, Fenerbahce and Olympiacos, now it just happens I've got it back at home."