Celtic fined €13,000 by UEFA over Fenerbahce disorder
Scottish champions have been punished by European football's governing body.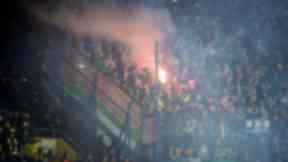 Celtic have been fined €13,000 by a UEFA disciplinary panel over crowd trouble during their Europa League match against Fenerbahce and for "improper conduct by the team".
The Scottish champions were found guilty of two rule breaches, one for the setting off of fireworks by supporters and another for the team picking up five yellow cards.
Celtic were charged by European football's governing body after fans let off flares in the Europa League group stage match in Turkey in December.
The match, which ended in a 1-1 draw, also saw the use of pyrotechnics by fans of the Turkish club.
The incident is one of several in recent years, despite the club's efforts to eradicate misconduct and pleas to fans not to use flares.
In February 2015, Celtic were fined 10,000 euros (£7,330) by UEFA following crowd disturbances at their Europa League match with Dinamo Zagreb the previous year.
A spokesman for the club said at the time: "Clearly everyone is extremely disappointed that the behaviour of only a handful of people and in particular the use of flares. We have repeatedly called for the use of flares to stop."
UEFA's policy is such that if disciplinary measures have to be imposed for offences of a similar nature within a five-year period, that is seen as an aggravating circumstance and increases the likelihood of a great punishment.
Then in March 2015, Celtic were further fined £9,495 over two charges of misconduct at their Europa League clash with Inter Milan.
Celtic were handed £8000 for the improper conduct of the team as well as a £5,000 punishment over two flares set off at the San Siro on February 26.
It was the seventh time in just over three years for incidents involving their fans in European competition.
In domestic competition, Celtic banned three supporters for letting off flares during the Scottish Cup tie at Stranraer in January.
The club apologised to the hosts and issued a public statement which said: "In a statement Celtic said: "Yesterday's events have again caused embarrassment to Celtic and our supporters.
"On numerous occasions Celtic has stated its strong opposition to the use of pyrotechnics but regrettably again, a very small number of individuals, within a ticket allocation of 2,500, have damaged the club.
"We should be very clear. Those responsible simply do not care about our club, our reputation or the safety of our fans and we do not want them at our matches."
A Celtic statement read: "Celtic supporters travel in their thousands to European matches and the club is always grateful and proud to have such a magnificent following from fans who have earned a wonderful reputation.
"Backed by our supporters' groups, the club has repeatedly stated its strong opposition to the use of pyrotechnics and took the appropriate action following this match in relation to the individuals concerned.
"Clearly this is something the club and our supporters do not wish to see repeated."
Celtic's previous UEFA sanctions
March 2015: Inter Milan (A) - €8,000 for improper conduct of team, €5,000 fine for flares
February 2015: Dinamo Zagreb (A) - €10,000 fine for inappropriate crowd behaviour
July 2014: KR Reykjavik (H) - fine for illicit banner
December 2013: AC Milan (H) - fine for illicit banner
July 2013: Cliftonville (H) - fine for flares
March 2012: Udinese (A) - fine for flares and illicit banner
December 2011: Rennes (A) - fine for illicit chanting