Ki Sung-Yueng's dreams of Scottish Cup, Rangers and Gerrard
Celtic's new signing Ki Sung-Yueng arrives in Glasgow with high hopes of a Scottish and European career.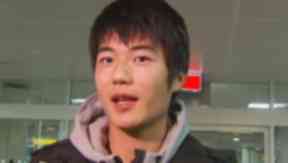 Soon-to-be new Celtic player Ki Sung-Yueng landed in Glasgow last night and quickly set out his not inconsiderable ambitions to bag goals, win trophies and become a worldwide footballing superstar. The FC Seoul player is set to sign for Tony Mowbray in the January transfer window.
Speaking in accomplished English, the Asian Football Federation's Young Player of the Year perhaps mistakenly targeted the Scottish Cup as his main priority. Nevertheless, his breezy, confident statements will provide a much-needed positive tone around Celtic Park.
"I'm looking forward to playing for Celtic," said Sung-Yueng. "It's my first time playing for a European team and it's really important for me.
"All I'm really looking for it that I must win the Scottish Cup. I've still got a long way to go and I must adapt to the new environment as quickly as I can.
He added that he would be aiming to make his mark on the Old Firm in January, telling reporters: "If I scored against Rangers, it would be fantastic - the most important moment of my life."
Sung-Yueng will join the Celtic in a move worth around £2million as Mowbray aims to invigorate the Parkhead ranks with young talent from less traditional markets.
The incoming 20-year-old midfielder also took the chance to reiterate his desire to become the next Steven Gerrard, kindly listing the ways in which he is already en route to his goal.
"I'm a young player," he said. "I'm energetic. I can run, I can pass, I can shoot: I want to be like Steven Gerrard – he's my hero.
"I want to score a lot of goals and give a lot of assists to the forward players.
"I'm really excited. Gerrard is the complete player. I've got a long way to go but I'll try to be like him. I'll be like Gerrard in Scotland."
Sung-Yueng also gave his thoughts on South Korea's World Cup chances and his desire to avoid England in the draw, which takes place on Friday.