McGeady is not ready to leave Celtic, says Bonner
Packie Bonner has told Aiden McGeady to continue his football development at Celtic and establish himself at international level before moving to England.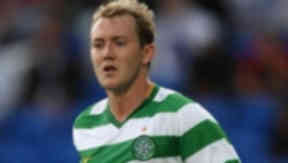 Packie Bonner has urged Aiden McGeady to stay with Celtic for a few more seasons before switching to the English Premier League. The former Hoops goalkeeper is now the Republic of Ireland's technical director and has worked with McGeady at international level.
The Celtic winger, 23, has been in and around the first team at Parkhead since he was 18 and has gone on to earn 32 caps for his country, although many of his appearances have came from the substitutes' bench. Birmingham City were linked with a move for the player in January but were told by Celtic boss Tony Mowbray they would be wasting their time making an offer.
Having failed to establish himself as a regular for his country so far, Bonner thinks that McGeady still has much to learn before he should jump ship into the more competitive environment of the English top flight.
"I've watched Aiden develop from being a very young guy," said Bonner. "He came over to Ireland when he was 15 years old and has developed in to an international player but still not one who is first name on the team sheet so he has a bit of development to go there.
"I think he should stay with Celtic for another year at least, probably two. But of course he has the talent [to play in England] - he wouldn't be in our international team if he didn't."
Bonner, who earned 80 caps for his country and played with Celtic for the entirety of his 17-year career, took in Saturday's Scottish Cup tie between his former club and Kilmarnock, giving him the opportunity to cast his eye over Robbie Keane.
The on-loan Spurs striker has been accused of only scoring goals because of the poor quality of the Scottish game. But Bonner says that as far as Republic of Ireland are concerned, the confidence gained from scoring goals will boost his international goal scoring credentials.
"I suppose you are saying it is a downward step for Robbie, but what we are more interested in is that Robbie builds his confidence, is scoring goals and that he can do it for our country.
"He has 97 caps for Ireland and will probably make his 100th by the time we open our new stadium in August.
"He was out of the [Tottenham] team and like all good strikers it's about confidence. He has scored eight goals in eight and his movement off the ball on Saturday was brilliant.
"Young kids should watch him when the ball is not near him - that is what makes Robbie. He hasn't got the burst of speed to get away from people but where he comes alive is in the last third of the pitch."