What are the financial implications of Champions League qualification?
Just what does reaching the group stages of the Champions League mean to the bank?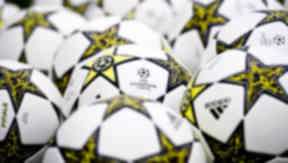 Ask any supporter in Europe where the big bucks are earned and they will tell you that it is in the Champions League.
The TV money, the prize funds, the sponsorship opportunities and the lure of the big match will all play their part in boosting coffers, but just how much is it worth to a club?
Here we intend to look at the different ways in which a club can gain revenue from reaching the Group stages of the Champions League, where the big money starts to roll in. We've tried to break the figures down into different areas, to look at the various areas in which a club can benefit, with an overview at the end.
Given that Celtic will be looking to reach the Champions League group stages by defeating Helsingborg, we've used them as an example.
Participation money
Depending on which teams Celtic are drawn against in the groups, pending their qualification, the most significant chunk of Champions League cash will either come from participation cash or money from TV rights. This is broken down by round, with a set amount being awarded after progression from each.
With regards to the participation bonus, for reaching the play-off stages of the Champions League, Celtic will net €2,100,000 (£1,660,000), with a further €5,300,000 (£4,180,000) being awarded for qualification for the group stage.
Each club is then given €550,000 for each match played in the group stage, guaranteeing them a further €3,300,000 for completing all six games.
This means that each Scottish club which reaches the Champions League group stages via the play-offs, and fulfils their fixtures, will net a minimum of €10,700,000, which translates as roughly £8,440,000.
TV Money
Each club are then given a "market pool" figure, which is a sum that reflects the size of the TV audience of each competitor. Obviously, being drawn in a group with a particularly illustrious opponent means you are more likely to get a higher figure here.
Drawing a Bayern Munich or a Barcelona isn't likely to help your chances of progress, but it will boost the market pool figure. It's difficult to exactly quantify what this figure could be in advance, we can only look at what Scottish teams have previously earned.
In 2010/11 Rangers earned €9,326,000 from the market pool. The year previously, Rangers earned €9,224,000. Given the increase in revenue available to UEFA this season, It would be fair to estimate that a single Champions League entrant from Scotland would stand to earn around €11,000,000 (£7,888,000) for their market pool.
Performance bonus
On top of this sum, each club is then given a "performance bonus" after each game, depending on the result. This is €1,000,000 (£788,000) for each victory and €500,000 (£394,000) for each draw. As there are six matches, the maximum that a club could possibly earn as a performance bonus is €6,000,000 (around £4,700,000), if they win six from six matches.
However, it is unlikely that, even in a hugely successful Champions League campaign, a Scottish club would manage a 100% record. More feasibly, a record of three wins and a draw - the minimum aim for most clubs - would be worth €3,500,000.
In summary
| | |
| --- | --- |
| Play-off participation | €2,100,000 (£1,660,000) |
| Group stage participation | €5,300,000 (£4,180,000) |
| 6 x match fees | €3,300,000 (£2,600,000) |
| Projected market pool | €11,000,000 (£8,720,000) |
| Guaranteed total | €21,700,000 (£17,192,000) |
| Maximum performance bonus | €6,000,000 (£4,700,000) |
Were a Scottish side to qualify for the Champions League group stages via the play-offs, then they would be looking at a guaranteed figure of around €21,700,000 (£17,192,000). This could grow by as much as €6,000,000, depending on performances once the team reached the group stages.
To put the significance of that figure into perspective, Celtic's turnover in 2011 was £52,600,000. A successful campaign in the Champions League would account for almost 27% of their turnover; a huge sum by any account.
Boost to crowds
While the increase in crowd numbers are certain to add to the overall figures a club can expect to earn, it is difficult to quantify the actual boost to finances without looking at what costs a team need to cover before they start breaking even on a matchday. Still, each Champions League match represents an opportunity to fill the ground and make a significant amount of money on matchday.
The following table shows the difference between the average crowd at a Celtic league match in the last three years, and the average crowd at a Champions League game over the last five campaigns.
| | |
| --- | --- |
| SPL average | 48,485 |
| Champions League average | 57,863 |
As we can see, a Champions League match is likely to add almost 10,000 to that of an average league game. Again, we can't exactly predict the profit from a match-day, but we can say that a crowd of 58,000 will bring incomes of something in the region of £2,500,000 per match-day. That is not going to transfer into pure profit, but further boosts the overall finances drawn from the Champions League.
In total?
A Scottish club can expect to earn a minimum of around £17,192,000 after qualifying from the play-off rounds. That figure may be boosted further depending on performances. While such figures are necessary for many sides around Europe, these sums can be revolutionary figures for Scottish clubs.