Scout report: The Helsingborg weaknesses Celtic should exploit
Magnus Sjöholm files his scout report on Helsingborg's strengths and weaknesses.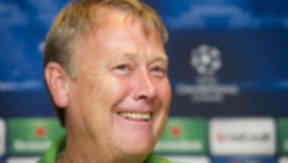 Age Hareide said on Monday that the most important thing is to not let Celtic score. He has always been very defensively minded, as we saw in his last spell with Helsingborg, at Copenhagen and with the Norwegian national team.
Hareide has only been with the team for less than two months but the squad contains his kind of players: plenty of defenders and good, fast, counter attacking options.
Helsingborg have two overwhelming weaknesses. The first is at set plays. Hareide has tried different approaches, varying between zonal and man-to-man marking. But he hasn't found a solution.
Walid Atta is their strongest defender, he should be in the Swedish national team, but the rest are not so reliable. Especially in the air.
Joseph Baffo is better than midfielder-turned-central defender Loret Sadiku, but neither of them are well-built. Additionally, their wing backs are poor at heading the ball, and their two central midfielders, May Mahlangu and Ardian Gashi, are small.
Forward Thomas Sorum is good in the air, but the fact Helsingborg are so limited attacking the ball aerially is something Celtic should exploit.
If he is fit, Celtic will face one of Europe's best goalkeepers in Par Hansson. But, even with him, there are weaknesses. He has great reactions, but there is one thing holding him back from being an international-class keeper: fear.
If someone challenges him once at a set piece, then at the next free-kick or corner he will not leave his line. Then, typically, he will come flying out for the next one.
Helsingborg's second major weakness is in the wingback positions. Christoffer Anderson and Erik Edman played at the highest level, but that was four or five years ago.
Both are still very competent, comfortable on the ball, small and experienced. But Edman hasn't played for a couple of weeks and injuries elsewhere in the team are likely to result in a defensive reshuffle. His replacement would be Jere Uronen, who is 18 and doesn't have much of a physical presence.
Andersson, according to the local newspaper HD, will play left midfield, removing Rachid Bouaouzan from the team and, in turn, strengthening the team's defensive play down the left hand side.
If Andersson is moved, his likely replacement at right wingback is the 36-year-old Erik Wahlstedt. He used to be a striker, playing and scoring against Barcelona and Manchester United in the autumn of 1993.
Wahlstedt is particularly easy to get at as he always tries to show players onto their left foot. If a player can cut inside and get the ball onto their right, he is unable to block a single cross. He turns like an oil tanker.
With Mattias Lindstrom out, Daniel Nordmark will play in front of Wahlstedt. Nordmark is very positionally naive, as was highlighted in the last match with Elfsborg, his former club.
Elfsborg often created a three versus two situation on the wing and easily made their way into the box. If a central defender came over to cover, they simply crossed the ball into a box one defender lighter, or moved the ball back to the middle with pace.
There are still players to watch out for. Gashi is almost a carbon-copy of how Neil Lennon was as a player in 2002. He is small, vicious and wonderful. He has a great temperament and attitude, wins a lot of one-on-one challenges but sometimes he is not able to limit his frustration.
His midfielder partner, Mahlangu, should be playing in a much better league but his height seems to count against him. He runs more than anyone else on the pitch, both on and off the ball.
The South African is the heart and soul of the Helsingborg counter attack. To compare him to a player at the top, he has similarities to Ramires but is of a more slight build.
Magnus Sjöholm is a Swedish writer and football journalist. You can follow him on Twitter @MagnusSjoholm1