Jackson Irvine sees plenty opportunity for further Celtic appearances
The 19-year-old made his top team debut against Hibernian in the SPL at the weekend.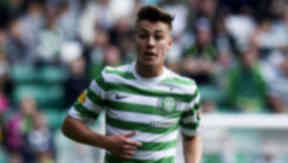 Jackson Irvine is determined to stake his claim for a regular place in Celtic's first team ahead of a busy season.
The Australian-born player made his first team debut against Hibernian at the weekend, replacing Victor Wanyama at half-time and lining up in central midfield.
Irvine is the latest player to emerge from the youth ranks at the club, following Tony Watt and Filip Twardzik this season, and believes there will be ample opportunity to feature again – if he can maintain his form.
"It's a massive season for them with the Champions League," he told STV. "There are a lot of games coming up - League Cup, league games, Scottish Cup - there's going to be a lot of chances for us to continue to impress.
"With the way the league is shaping up, it's always going to be tough. Especially with Rangers not being in the league now, the emphasis is going to be on the other teams to try and take points off Celtic.
"We've got to be aware of that. But at the same time, it has opened the door for a lot of chances for young players. Guys like Paul George and Lewis Toshney have also made competitive debuts. Filip and Tony have started the last two league games on the bounce.
"Hopefully they can keep their places and continue to consider themselves first team players."
The 19-year-old was called in during his half-time warm-up and said he had to ensure he wasn't fazed with his sudden involvement with Neil Lennon's first team side.
"It came out of nowhere," he said of his debut. "I was warming up at half-time, just as I had been for the previous weeks when I had been on the bench.
"Victor [Wanyama] was inside and having some thigh problems. You get the shout and you've just got to go in and slot straight in.
"When you are up here, you can't think of yourself as a youth player. If you are with the first team, you have got to consider yourself a first team player. You've got to be able to slot in and make that step up when it is required."
Irvine benefitted from Celtic's participation in the NextGen Series last term, facing the likes of Barcelona in the European competition, and is set to feature again as the 2011/12 campaign kicks off against Sporting Lisbon at Firhill on Thursday.
"It is games like tomorrow night that can keep you in the manager's plans," he said. "It is a big test playing against a really good side. They are one of the favourites in the tournament.
"So I've got to go out there and take it as any other game. Hopefully I can continue to play well.
"That's the most important thing at the moment. You want to win games but you also want to stay in the manager's thoughts for the first team."