Football Talk: Hooper for England, banana skin shortage, two second goal
Chopping and chopping at the web until football news comes crashing down.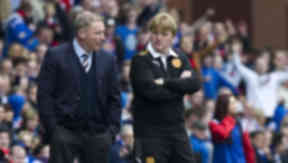 Football Talk was ready. Fully primed to unleash all the clichés as the League Cup promised to deliver shocks.
Most of the ties promised a reasonable chance that the last 16 could pick up where the last round left off with the top flight taking a beating from the SFL. We had the thesaurus in hand and were preparing to list the giant-killings, the potential banana skins that had become actual banana skins, the shocks, the upsets and the unthinkable.
As it happens, all the SPL sides came through unscathed on Tuesday night. Maybe Dunfermline can knock out Aberdeen tonight or there will be a surprise at Ibrox but with Rangers and Motherwell playing a pre-match game of "no, you're the favourites" it might be hard to understand what a shock would be.
Last night's games did conjure up some exciting managerial claims though.Neil Lennon wants four-goal hero Gary Hooper to take a regular break from expectation at Parkhead to be subjected to expectation at international level with England.
Danny Lennon paid tribute to Lee Mair by saying "He's a lumberjack and he's all right" or something along those lines.
And Charles Green has continued his prolific statement streak, reiterating his claim that the SFA and SPL have "moved the goalposts" to their own advantage when considering the Rangers payments issue.
Neil Lennon believes Gary Hooper is good enough to play for England
The Celtic manager says his striker is international class and has it all.
Danny Lennon: 'St Mirren win was like chopping down a big old oak tree'
The Buddies' boss believes his side should have ditched black and white stripes for thick checked shirts against Hamilton.
Charles Green: Nimmo Smith's ruling means Rangers did not 'die on June 14'
Green has railed against the authorities again, defending his club's position. In our Must Read section, someone thinks he should do it in person...
Dean Shiels: I'm up for a cup double
After tasting success in the League Cup last season, the former Kilmarnock player wants Hampden glory with Rangers. (Scottish Sun)
Away from the headlines, we've got a selection of must read articles for you to spend some time with:
Green and Murray should both testify at SPL probe
Graham Spiers says there is no reason why both men can't give their thoughts to the SPL's payments investigation (The Herald)
Timbers Face Several Option With Kris Boyd, None Of Them Are Good
Boyd's season is over. Is his time with Portland Timbers? (SB Nation)
To round everything off, there's our daily pick of the best football video from around the web.
In the time it takes the average reader to read this sentence this guy could have scored a hat trick