Could Juan Agudelo provide the solution to Celtic's post-Europe profligacy?
American soccer blog The Shin Guardian gives an insight into the 19-year-old.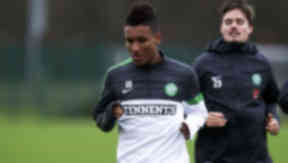 USA international striker Juan Agudelo arrived at Celtic on Friday, spending time training with Neil Lennon's side after his club, MLS' Chivas USA, failed to reach the post-season play-offs.
Heavily tipped at 17 as the next big thing in American soccer, the 16-times capped player's career has stalled recently through injury.
Still a regular pick in the national side, however, he comes to Glasgow at a time the SPL champions could be looking for a short-term fix in attack.
Lennon's team have dropped points twice now off the back of Champions League group stage matches, being wasteful in front of goal against Kilmarnock and St Johnstone after significant exerts against Barcelona.
With progression to the knockout stages within their grasp, could Agudelo be seen as a short-term fix to get them through post-European league matches and convert chances into goals until the start of the new MLS season?
American soccer blog The Shin Guardian gives us a brief run-through on the 19-year-old, who came off the bench to influence USA's 2-2 draw with Russia in midweek.
"Juan came onto the scene through the New York Red Bulls academy, rising to prominence during the 2010 play-offs.
"He played left forward in a 4-3-3 and was absolutely fearless and dynamic. He earned himself a call immediately thereafter to the national team at 17.
"At international level, he's had a few magical moments. He scored in a draw with Argentina in March 2011 in front of 80,000, having previously netted against South Africa on his first cap after that play-off run.
"The last two seasons at club level though haven't been so hot. He battled injuries all year in 2011 at Red Bulls, and their then-coach, Hans Backe, didn't want to play him after the start. Although he was capable of the odd flash of brilliance.
"A trade to Chivas USA followed, and he's struggled with injuries there too during the campaign.
"There are accusations he resembles Jozy Altidore in that he isn't the hardest worker. There have been questions about his work ethic from many.
"In about 2011, he seemed to think he had it made. The early limelight went to his head a bit. But, for me, he is a top five to top ten prospect for the US. He's got a big frame and he holds the ball well.
"He's probably just big enough to do a good job at target man unless he's going up against a Subotic or Vidic.
"He's a very, very good passer and usually makes the safe pass, unless he's under duress or can thread one forward.
"He's also very good at picking up scraps around the goal and if it's a gimme, he makes it every time.
"From a development point of view, training at Celtic to toughen him up is great for him. If a short-term loan, or even a permanent deal comes off, he isn't going to be their number one frontman.
"He would work well though playing off Gary Hooper or Georgios Samaras, or wide in a 4-3-3.
"He is only 19, and he needs to train with players who know the meaning of hard work.
"I think the kid has the tools to go far if he nails the mindset. He really does have the tools and physique."
The Shin Guardian is a must-read American soccer blog, covering the US national team, American's plying their trade abroad, and Major League Soccer. You can also follow them on Twitter @shinguardian.
Here's some Juan Agudelo for you to enjoy and make your mind up.
The knockdown for Michael Bradley to net in USA's 2-2 draw with Russia in midweek.
Agudelo nets his first US international goal.
Scoring against Argentina.
Agudelo's first goal for current club Chivas USA.