How the Portuguese media are reporting Celtic's defeat away to Benfica
Jorge Jesus welcomes Celtic's lack of luck but all eyes now turn to Barcelona showdown.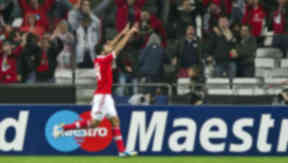 After home victory for the hosts, attention was quickly switched to Benfica's final group game – away to Barcelona.
The media knows that the Portuguese men must match Celtic's result to go through and the Eagles players were quizzed on their chances in Catalunya after the 2-1 win.
A Bola – "Salvio confiante num bom resultado em Barcelona"
Argentine midfielder Eduardo Salvio is "confident" of getting a good result in Barcelona.
A victory at the Camp Nou would send Benfica through to the last 16 at Celtic's expense and the 22-year-old reckons they can do it.
He said: "We will fight in the Barcelona game and hopefully get a results to go through in the competition.
"We are confident and strong and go to Barcelona to get the result we want."
Jornal Record - "Jorge Jesus: 'Com Messi ou sem Messi vamos para ganhar'."
"With Messi or without Messi, we will play to win," Jorge Jesus told the medis following the 2-1 defeat of Celtic.
Of the game against Neil Lennon's men, Jesus said: "We played a good game.
"We beat a team that has had a lot of luck in the Champions League. Luck deserted them today."
O Jogo – "Benfica mantém vivo o sonho"
"Benfica keep the dream alive," says O Jogo of the victory.
The editorial reads: "Benfica say fulfilled it's obligation and kept alive their hopes of going forward in the Champions League.
"To make the next round Benfica 'only' have to match the result of the Scots. The problem is that Jorge Jesus' men play away to Barcelona while the Glasgow team welcomes the already-eliminated Spartak Moscow."