Xavi assures Celtic fans Barcelona will go out to beat Benfica
The midfielder says the Spanish giants won't take it easy against Jorge Jesus' men.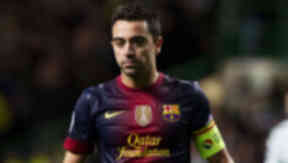 Barcelona midfielder Xavi has reassured Celtic fans that his side won't rest on their laurels when they face Benfica in their final Champions League group match.
Neil Lennon's men go into their final group match against Spartak Moscow with work to do while the Portuguese outfit face a trip to the Camp Nou.
And despite the Catalan side already gaining a place in the knock-out stages, Xavi insists they will be going all out to take three points.
He said: "Barcelona only ever play to win as that is the only way we know.
"We are happy we have won the group with a game to go – but that does not mean we will not be looking to win the final game.
"Winning produces momentum and we won't want to break momentum by relaxing and thinking it doesn't matter. Whatever players Barcelona put out it are capable of beating any team – especially when we are at home.
"We have no alliance, we don't care who progresses but we will play fairly and we will play to win."