Celtic move appeals to Juan Agudelo after sampling fans' passion
The Chivas USA forward is currently training with the SPL side during MLS' off-season.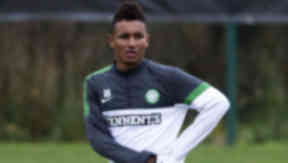 Juan Agudelo says it would fulfil his long-term ambitions if he was given the chance to move to Europe with Celtic.
The Chivas USA forward, who at 19 has already been capped 16 times by the United States national team, is training with Neil Lennon's side to gain experience during MLS' off-season.
Having harboured ambitions of playing in Europe since he embarked upon a professional career, Agudelo has told STV a chance to get his first experience abroad in the Scottish Premier League would be hard to pass up, having been blown away with the passion for football in the country.
"[It's] definitely something I thought of as soon as I heard the word Celtic," he said. "I know the history. It's basically a religion for many.
"Just to have that there and have the support of the whole city would be lovely. Especially due to the fact they are consistently Champions League. Being in the group stage of the Champions League is huge.
"We'll see. I'd have to consider a lot of things but definitely, Celtic is a great club.
"This kind of move has been on my mind for as long as I can remember playing soccer. Going and playing in Europe is what I would like to do. This is, right now, where the best football is being played. I would love to play here."
Agudelo's short-term stay in Glasgow was encouraged by his national boss, Jurgen Klinsmann.
The former New York Red Bulls player also spent time with Stuttgart and Liverpool last winter on the recommendation of the German manager, who is keen for US-based players to sample football outside of the national league.
"Jurgen Klinsmann suggests us young players try to get as much experience as we can. He encourages this move, so that's why I am here."
Agudelo also sought advice from former Rangers player Maurice Edu and Carlos Bocanegra, who is currently away from Ibrox on a season-long loan with Racing Santander.
"I was actually with them when we had a friendly against Russia about a week and a half ago," said Agudelo. "They just told me about the city and said 'if you need anything, just let us know'.
"Maurice Edu has been telling me about how great it is, how his time at Rangers had been awesome. Bocanegra the same.
"When I actually said that [I was coming to Celtic], Maurice Edu said 'Why not Rangers?'.
"I just said 'Look, I'm just going along with the flow here'."