Juan Agudelo on Celtic, living up to the hype and Maurice Edu's advice
The Chivas USA and US national team forward sits down with STV during his time in Scotland.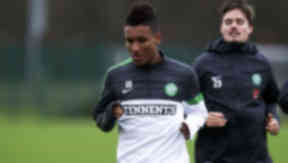 Juan Agudelo saw his star rise sharply after scoring on his debut for the US national team at the age of 17, just a month after making his club debut for New York Red Bulls.
Now 19 and with another MLS side, Chivas USA, the forward is spending time with Celtic during the league's off-season to gain more experience of the European game.
Harbouring long-term ambitions of a move to Europe, the player isn't on a formal trial with the SPL side, but says he would relish the opportunity to move to Scotland if the chance arose.
"[It's] definitely something I thought of as soon as I heard the word Celtic," he said. "I know the history. It's basically a religion for many.
"Just to have that there and have the support of the whole city would be lovely. Especially due to the fact they are consistently Champions League. Being in the group stage of the Champions League is huge.
"We'll see. I'd have to consider a lot of things but definitely, Celtic is a great club.
"This kind of move has been on my mind for as long as I can remember playing soccer. Going and playing in Europe is what I would like to do. This is, right now, where the best football is being played. I would love to play here."
In his interview with STV, Agudelo also speaks of handling the expectation which comes with being the US national side's youngest ever goal scorer.
"I like to think of myself as very humble. I've seen players who have been hyped up and have lost respect for the game.
"Those players maybe could have continued their career. I know if I am not focused, don't keep training every day hard, my career maybe could maybe swerve off in a different direction.
"Being the youngster player ever to score for the US team was just a huge boost to my career, confidence wise. From there my career just shot up."
Maurice Edu and Carlos Bocanegra have both sampled life in Glasgow with Rangers and had advice for their USA team-mate, although one of them was less enthusiastic about Agudelo's choice of club.
"I was actually with them when we had a friendly against Russia about a week and a half ago," said Agudelo. "They just told me about the city and said 'if you need anything, just let us know'.
"Maurice Edu has been telling me about how great it is, how his time at Rangers had been awesome. Bocanegra the same.
"When I actually said that [I was coming to Celtic], Maurice Edu said 'Why not Rangers?'.
"I just said 'Look, I'm just going along with the flow here'."
For the outsider, Major League Soccer is synonymous with LA Galaxy's David Beckham, who announced his decision to quit the league this week after five seasons.
Although opinion is divided on whether the Beckham experiment was worthwhile, Agudelo says it served to provide more opportunities for players like himself to impress more clubs from Europe.
"He definitely made the MLS... it gave it a window for overseas to be like 'OK, what is this league?'. It gave it a huge boost.
"I thank him for that."