Celtic want to sign Juan Agudelo after impressing Neil Lennon in training
The American forward is currently on a two-week stint with the SPL side.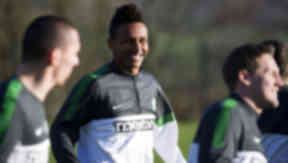 Neil Lennon says he will hold talks with Juan Agudelo's representatives over a possible move to Celtic.
The American forward, who at 20 years old has already been capped 16 times for his country, is currently training with the SPL side during MLS' off-season.
Speaking on Friday, Lennon says he has been "very impressed" by Chivas USA player, who is one of the rising stars in US soccer.
"He has looked very good, we have been very impressed with him," said the Celtic boss.
"We are hoping he will stay around for a few more days and we can talk with his representatives.
"I haven't had the chance to sit down with everyone and discuss it but myself and my backroom team have been very impressed."
In an interview with STV, Agudelo said he too was keen to move to Scotland if a deal could be struck.
"[It's] definitely something I thought of as soon as I heard the word Celtic," he said. "I know the history. It's basically a religion for many.
"Just to have that there and have the support of the whole city would be lovely. Especially due to the fact they are consistently Champions League. Being in the group stage of the Champions League is huge.
"We'll see. I'd have to consider a lot of things but definitely, Celtic is a great club.
"This kind of move has been on my mind for as long as I can remember playing soccer. Going and playing in Europe is what I would like to do. This is, right now, where the best football is being played. I would love to play here."