Chivas USA tell Celtic: We aren't prepared to sell Juan Agudelo
The US international has been training at Lennoxtown but his club have played down a transfer.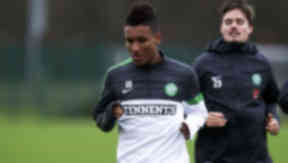 Chivas USA have played down any prospect of Celtic signing international striker Juan Agudelo.
The 20-year-old, who has 16 international caps, has been training with Celtic during the MLS off-season and Neil Lennon has said that he has been impressed with the young forward.
Lennon had expressed an interest in the player and said: "We are hoping he will stay around for a few more days and we can talk with his representatives."
However, Chivas USA communications manager Rodrigo Ochoa said that the MLS side had no intention of selling.
"For us, the club, for the organization, Juan Agudelo is just keeping fit training with Celtic, and that's it. There are no plans for the club to take any kind of transfer," Ochoa told MLSsoccer.com.
"He's taking advantage of the vacation time that we have right now, and he's training, keeping fit."
However, Agudelo had previously told STV that he would be keen on making a switch to the SPL.
"[It's] definitely something I thought of as soon as I heard the word Celtic," he said. "I know the history. It's basically a religion for many.
"We'll see. I'd have to consider a lot of things but definitely, Celtic is a great club.
"This kind of move has been on my mind for as long as I can remember playing soccer."