STV to show Celtic v Juventus match live on TV and online
The first leg of the Champions League last 16 match will be broadcast and streamed live on stv.tv.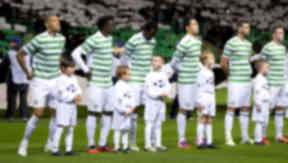 The Champions League last 16 match between Celtic and Juventus at Parkhead will be broadcast live by STV on television and online.
Celtic were paired with the Serie A giants at the knock-out stage draw in Nyon, Switzerland on Thursday morning. The SPL side welcome their Italian opponents to Glasgow on Tuesday, February 12.
The away leg, played in Turin's Juventus Stadium, will take place on Wednesday, March 6.
Celtic boss Neil Lennon told STV he was eagerly anticipating what he expected to be a thrilling tie.
"It's a fantastic draw," Lennon said. "It's tough but in terms of glamour they don't come much bigger than Juventus with their great history in European football and their great tradition as a football club.
"In the last 18 months they have been very impressive so in terms of toughness, we couldn't have had a tougher draw.
"It's a beauty. In footballing terms it's one the best tactical teams and it'll be a good tactical game over the two legs. Hopefully we can get a good foothold in the first game and have something to take to Turin."
Champions League last 16 fixtures in full
Tuesday, February 12Celtic v JuventusValencia v PSG
Wednesday, February 13Real Madrid v Manchester UnitedShakhtar Donetsk v Borussia Dortmund
Tuesday, February 19Arsenal v BayernPorto v Malaga
Wednesday, February 20Galatasaray v SchalkeMilan v Barcelona
Tuesday, March 5Manchester United v Real MadridBorussia Dortmund v Shakhtar Donetsk
Wednesday, March 6Juventus v CelticPSG v Valencia
Tuesday, March 12Barcelona v AC MilanSchalke v Galatasaray
Wednesday, March 13Bayern Munich v ArsenalMalaga v Porto