Celtic look to strengthen Mexican links with Santos visit
Peter Lawwell and three other Celtic representatives are in Mexico to visit Santos Laguna, as talks continue over the partnership between the two clubs.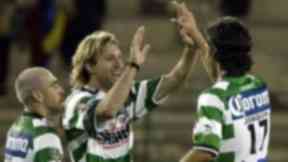 Celtic chief executive Peter Lawwell is in Mexico this week, holding detailed talks with Santos Laguna over how both clubs can make their new-found ties work best. The Glasgow side linked up with the Central Americans back in September, when delegates from Santos visited Glasgow.
Adrian Filby, Celtic's commercial director, chief scout John Park and youth coach Chris McCart are also on the trip, which yesterday saw all four attending training, receiving a tour of the club's facilities and meeting the first team squad.
It was remarked in the Mexican press that Lawwell, who was shown around by Santos president Alejandro Irarragorri, had done his homework ahead of his trip and knew "every member of the first team".
The visit to Torreon will also provide a chance for Park and McCart to cast their eye over other possible players who could make their way to Lennoxtown, with Celtic holding the option to take players on loan.
Those on the trip are already familiar with one of Santos' emerging talents, Adrian Ruelas. The USA Under-20 international is currently on an extended trial with Celtic, with an agreement in place for the striker to move to the SPL if he impresses manager Neil Lennon.
On Wednesday, the Celtic representatives will hold a succession of meetings with their counterparts at Santos. Talks are scheduled with regards to youth development, as well as how best the two clubs can work together on sales and marketing.
On their official website, Santos say they are seeking a "comprehensive agreement" to be reached by the two clubs as a result of the visit, which will conclude on Friday.
Back in September, Santos' president spoke of the "shared philosophies, foundations and objectives" between the two clubs, with Lawwell also remarking that "there is huge interest in Mexico in Glasgow Celtic and this could be another step in us promoting the Celtic name".
CELTIC'S MEXICO CONNECTION