Did Jamie Murphy dive to win a penalty for Motherwell at Celtic?
The now former Motherwell forward was awarded a spot kick following a challenge by Kelvin Wilson.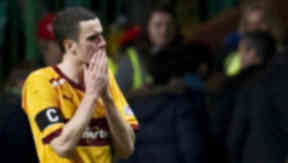 Referee Steven McLean's decision to award Motherwell a penalty in their midweek defeat to Celtic is up for debate.
Jamie Murphy, playing his last game for the visitors ahead of a move to Sheffield United, won the spot kick with 15 minutes left to play.
Home defender Kelvin Wilson stepped across Murphy's path as he surged into the box, with the Well player going down to give his side the chance to take the lead.
Celtic fans have been queuing up on Twitter to accuse Murphy of diving, although Celtic coach Garry Parker stated afrer the match that "it was obviously a penalty".
Tom Hateley missed the spot kick, something which has also caused controversy, before Celtic went on to win the game 1-0 through Gary Hooper's strike.
What do you think? Let us know on Twitter @STVSport or on our Facebook page.