'If a club like Celtic calls, then you should get on the plane'
Rami Gershon will hold talks with Neil Lennon's side on Friday over a switch from Standard Liege.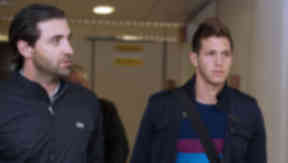 Prospective Celtic signing Rami Gershon is hopeful of concluding a deal to join the Scottish champions on Friday.
The Israeli defender flew into Glasgow on Thursday evening, accompanied by his agent, Dudu Dahan.
Currently with Standard Liege, Gershon will hold talks over the possibility of either a permanent or loan move to become part of Neil Lennon's squad.
Reluctant to go into greater detail over his potential switch, fearing a late collapse of the move, Gershon commented only of his happiness to have the chance to join Celtic.
"I am very happy to be here," he said at Glasgow Airport. "I am very excited to have the opportunity to play for Celtic.
"I just hope that everything will be done tomorrow and then I can speak more."
His agent was more forthright in his views, interrupting his client to tell reporters: "There is nothing to talk about. If a club like Celtic calls then you should get on the plane. That's what we did."
Gershon is an international team-mate of current Celtic midfielder Beram Kayal, but says he hasn't had the opportunity to discuss the possibility of linking up at club level.
"I haven't spoken to him," Gershon admitted. "He is a good friend of mine but everything was very quick so I didn't find the time to speak to him.
"In the past he has told me only good things about Celtic."
If he signs, Gershon can be added to Celtic's 25-man squad for the Champions League, albeit at the expense of another player.
Lennon can make up to three changes to his squad list from the group stages, as he prepares his side for a last 16 tie with Juventus.