Celtic to announce new shirt sponsorship deal at 'major' news conference
The club's current deal with Tennent's, held jointly with Rangers, expires in the summer.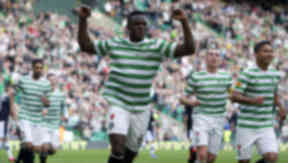 Celtic are set to announce a new shirt sponsorship deal at a news conference on Wednesday.
C&C Group currently sponsors both Celtic and Rangers, with their lager brand Tennent's displayed on both teams' shirts.
NTL and Carling have also entered combined deals with both clubs, who have shared a sponsor since 1999.
It is not yet known whether the new deal will be in conjunction with their city rivals, or an independent sponsorship.
The current joint agreement is worth £1.5m per season to both clubs but expires at the end of the 2012/13 season.
Celtic shareholders raised a motion at the club's AGM in October to end their association with their Glasgow rivals, which was described as "increasingly unpopular with supporters".
In response, the club's board said such a move would "seriously limit the number of potential sponsors available and hinder the company unnecessarily in any sponsorship negotiations that did take place".
On Tuesday, leaked pictures of Celtic's new shirt for the 2013/14 season were confirmed as being legitimate.
The photograph of the new kit featured Tennent's as the principal shirt sponsor.