Celtic boss expects Norwich to make second bid for Gary Hooper
Neil Lennon says he's determined to keep the striker at the club.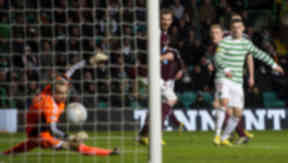 Celtic boss Neil Lennon believes Norwich City will make a second bid for striker Gary Hooper.
The Premier League club had an initial offer, thought to be around the £5million mark rejected by the Parkhead club on Friday.
Hooper scored two goals on Saturday as Neil Lennon's men beat Hearts 4-1 at home.
Meanwhile Norwich were beaten 5-0 by Liverpool at Anfield at sit 13th in the table, with 26 points from 23 games.
However Lennon has warned the Canaries he is determined to keep hold of the forward.
He said: "We had a chat last night after speaking to his representatives and we wanted to make our position clear to him and he is quite comfortable with it all.
"We have made it clear that we are not selling him, we don't want him to go, especially at this juncture of the season.
"However, everyone has their price and what Gary's price is will be down to the board and myself to decide.
"What we were offered on Thursday was nowhere near our valuation of the player.
"We don't have a set figure, however, goalscorers are at a premium and Gary is a goalscorer so we will set the bar pretty high for him.
"I am hearing that they (Norwich) might come again but good luck to them on that."
Signed from Scunthorpe United in the summer of 2010, Hooper has scored 70 goals in 115 appearances for the Glasgow club.
He has scored 19 in 30 games this season, including two Champions League goals against Spartak Moscow, as his side reached the last 16 of the competition, where they will face Juventus.
On his display against Hearts, Lennon said: "I thought Gary was brilliant, he was at his best. He got two goals, but I think his all-round game was top class.
"He is at a big club as it is and he is in the Champions League.
"His ambition possibly is to play in the Premier League and I think he is good enough to do it now, there is no question about that. It just depends on the level he wants to play at and I don't think he is far away from international level as well.
"I mentioned him to (England manager) Roy (Hodgson) last week and he said he is keeping tabs on the two boys (including goalkeeper Fraser Forster) so it's all good.
"I am not going to stop any of the guys' progress because I wouldn't have wanted that done to myself, but I am the manager of the club and they have to do what (chief executive) Peter Lawwell and I think is best for the club's interests and, in the short term, it is keeping Gary Hooper here.
"But we still have two weeks to go of the transfer window and the last week gets pretty heavy.
"I am sure he is on the radar of plenty of clubs."