Tactical preview: TicTacTic looks at Celtic's options against Juventus
Michael Gunn from Celtic tactics blog TicTacTic previews the Juventus tie.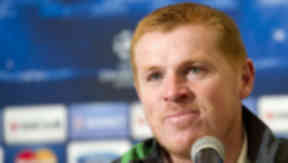 Ahead of Celtic's Champions League last 16 match against Juventus, STV caught up with Michael Gunn, editor of Celtic tactics blog TicTacTic for his thoughts on the first leg match.
With fans on social media sharing their preferred line-ups and formation, we asked Michael how he expected Celtic's starting XI to take shape. Here's his take on why 4-3-3 could be the way to success for Neil Lennon's side:Celtic's recent history of 4-3-3
After a side lined up in 4-4-2 put Celtic through to the knockout stages with a win over Spartak Moscow, Neil Lennon sent his players out in 3-5-2 for their three subsequent domestic matches.
Since the draw was made against Juventus, an obvious pattern has emerged in the formations that Neil Lennon has deployed. In eight of Celtic's ten matches since the draw, the starting formation has been a 4-3-3.
Whether it's a system that Lennon has naturally arrived at or not, or is being developed primarily to counter Italian opposition, the timing is telling.
Back in 2011 Lennon,unexpectedly, devised a 4-3-3 (or 4-4-2 diamond) to combat another Italian Bianconeri. It was a direct retort to Udinese's 3-5-2, essentially inverting the formation to go man-to-man:
Celtic's front three matched the opposition's three centre-backs. The wing-backs paired off against one another, leaving three against three in midfield and Celtic's two centre-backs picked up the two opposition strikers.
It's a high-risk strategy - with no men over leaving no room for mistakes, and this previously proved to be Celtic's Achilles heel. Cha Du Ri was exposed and probably out of his depth against Colombian international Pablo Armero.
Juventus will play a similar 3-5-2, fielding equally talented wing-backs on either flank - likely Stephan Lichtsteiner on the right and Mauricio Isla ( Kwadwo Asamoah is unlikely to start after Africa Cup of Nations duty) on the left.
Drawing a logical conclusion, Lennon will persist with the same 4-3-3 that's been used since the draw on the 20th December.
Celtic Options
A benefit of this 4-3-3 is that Celtic have a wealth of striking options. Gary Hooper, Georgios Samaras and Kris Commons are likely first choice, but Tony Watt, Lassad Nouioui and Miku have impressed at different times, while Anthony Stokes - so successful a few seasons ago - nears full match fitness.
An added advantage is their adaptability - Samaras can play further left and serves as both target-man and pressure relieving runner. Kris Commons can play left or right or drop into number 10, and Hooper has recently showcased his own number 10 credentials.
It means a switch to any formation is viable - notably the 4-4-2 that had served so successfully in the Champions League so far, or the less frequently used 3-5-2.
The midfield three should be the most stable element in the side, with Joe Ledley, highly coveted Victor Wanyama and team captain Scott Brown shoo-ins to start.
In defence Efe Ambrose's failure to make it back from AFCON with adequate preparation time and Emilio Izaguirre's recent return from injury poses a few problems. Charlie Mulgrew is probably preferred to start at left-back having deputised recently (and played 90 minutes there for the national team).
When Ambrose missed out against Benfica, it was Mikael Lustig who stepped in (as opposed to Mulgrew or Thomas Rogne) - which was a little surprising considering Lustig is a converted full-back while Rogne is a "true" central defender.This would answer the right-back question too; giving room for Adam Matthews, who has had a fantastic season so far, the chance to start.
Georgios Samaras is the only injury doubt in Lennon's squad, with James Forrest and Izaguirre confirmed ready to go.
The alternatives
Having established 4-3-3 as first-choice formation for the previous 10 fixtures, it seems strange to reject the 4-4-2 that helped defeat Barcelona and Spartak. Though five-man midfields are generally considered "conservative" options, this version of 4-4-2 was supremely defensive - breaking the team up between 8 defenders (the ubiquitous 'two banks of four') and two strikers.
Despite the result, there were downsides. Against Spartak for example, huge swathes of possession was relinquished for the sake of defensive stability. And in the SPL, it's become so predictable and one dimensional that Lennon has been forced to mix-and-match multiple times per game in order to keep the opposition guessing.
But given the previous victories, the 4-4-2 can't be ruled out - especially on the back-foot.
3-5-2?
Some speculate that Lennon will match Juventus' certain 3-5-2, in order to cancel out any perceived advantages. Strictly speaking, 3-5-2 vs 3-5-2 is assymetric, so doesn't cancel each other out. You will have a man over at the back and a man less up front.While Lennon, especially in 2012 frequently used 3-5-2, it hasn't had the success of 4-3-3 or 4-4-2, so remains an outside bet.
Record since new year: P9 L2 D3 W4
Juventus, like Celtic, have had a tumultuous start to 2013. Their 2-0 win over Fiorentina on Saturday with a slightly understrength side still leaves Antonio Conte's side with only 4 wins in 9.
Their problems have stemmed from uncertainty at either end - availability problems at the back and scoring shortages up front.
Their most famous defender - Giorgio Chiellini - will miss the Celtic match through injury, though fellow Italian international Leonardo Bonucci returns from suspension. He will likely usurp Federico Peluso in the back 3, with Martin Cacares also coming into contention.
Top scorer Fabio Quagliarella hasn't featured this year, while high-profile January signing Nicolas Anelka watched Fiorentina from the bench. This leaves Sebastian Giovinco, Alessandro Matri and Mirko Vucinic, with the latter starting - and scoring a goal each - on Saturday. Vucinic's brilliant long-range effort a reminder to Celtic that he's dangerous from anywhere at anytime.
Juventus remain most impressive in the centre of midfield, with playmaker Andrea Pirlo instrumental. He is flanked by smart, industrious all rounders Sebastian Giovinco and Aurturo Vidal.