Celtic 0-3 Juventus: The reports, reaction, best tweets and analysis
The best reaction from around the web on Celtic's defeat to Juventus.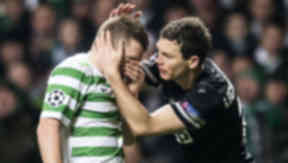 Celtic fell to some clinical Juventus finishing and some controversial referreeing in the first leg of their last-16 clash at Parkhead.
Juve striker Alessandro Matri rocked the Hoops with a third-minute goal only for Neil Lennon's side to battle back ferociously.
Despite creating pressure and chances throughout the match, the Scottish champions were hit by a sucker-punch in the 76th minute when midfielder Claudio Marchisio grabbed a second on the counter before striker Mirko Vucinic grabbed a third in the 83rd minute.
In a physical encounter, the home support grew increasingly frustrated by referee Alberto Undanio Mallenco's decisions.
In the 37th minute, after Celtic striker Gary Hooper and Juventus defender Stephan Lichsteiner were both booked for wrestling as they awaited Commons' corner. Then in the second half Scott Brown and Simone Padoin were booked after clashing in then penalty area.
What the managers say
Neil Lennon: "We need a miracle. But it's the harsh reality of Champions League football and some of my young players will learn a huge lesson tonight.
"I thought for 70-odd minutes, until the second goal, we were by far the better side - but you can't give away goals like we gave away, sloppy.
"Efe was poor for the first goal but we had good chances to equalise. Then we switched off defensively for the second goal and the third goal was poor.
"I'd like to ask the referee, is the game different in Spain or Italy? Every time one of my players tried to move he was held. He should have given a penalty on at least two occasions."
Antonio Conte: "Quite often in Italy we have the bad habit of over-criticising so I will leave it to the Celtic manager to criticise this evening.
"Celtic are a good team but we knew this, and there was a fantastic crowd who were like two extra men and that can only drive a team on.
"So it was a difficult match for us, but we kept our heads.
"Celtic played with great intensity but we showed great maturity and overall it was an excellent result for us."
The game in tweets
At Celtic Park. Huge banner unfurled of iconic London Calling album cover with 'Paul Simonon' guitar hovering over Juve badge. Different.

— alan pattullo (@alan_pattullo) February 12, 2013
Celtic backline affording bings of space to Matri and Vucinic on the break. Means Juve look dangerous every time they go forward. #CelticUCL

— Graham Ruthven (@grahamruthven) February 12, 2013
Celtic taking the game to Juve here. Doubt they can maintain this tempo for 90 mins. Need a lead to take to Turin, to have a chance

— Joseph Barton (@Joey7Barton) February 12, 2013
I'm hating this nonsense on corners. The Italians are renown for it. Until Refs pluck up the courage to give a pen it won't change.

— michael owen (@themichaelowen) February 12, 2013
Lichtsteiner and Hooper need to take it to the ring after this. #Juve

— Nacho Camacho (@Champalada) February 12, 2013
See Claudio Marchisio's classy finish to make it Celtic 0-2 Juventus bit.ly/12uqxnE

— STV Sport (@STVSport) February 12, 2013
GOAL! #CelticJuve 0-3. Marchisio slides in Vucinic and the striker makes no mistake with a cool finish from close range!

— JuventusFC (@juventusfc) February 12, 2013
Neil Lennon: "It's not rugby, it's soccer." #CelticUCL

— Grant Russell (@STVGrant) February 12, 2013
@larspedant @zonal_marking Early Juve goal played right into Conte's hands. It was a smart, clinical decimation of over-ambitious Celtic.

— tictactic (@tic_tac_tic) February 12, 2013
Further reading on Celtic 0-3 Juventus
STV: "Celtic need a football miracle if they are to rescue their Champions League hopes after succumbing to a ruthless Juventus side in the first leg of their last-16 clash at Parkhead"
Scottish Sun: "When push comes to shove, the margins at this level are razor thin. At one end, Celtic could have had a hatful of penalties as Juve rag-dolled hooped jerseys at every set-piece. At the other, the Italians pulled off three classic counter-attacks to virtually kill the tie. Impressive on one hand, sure it was? Brutal on the other, you'd better believe it."
Daily Record: "It will take a miracle now to stop Celtic's adventure from ending here. In fact, let's face it, the tie was over last night. There will be no way back in Turin next month because the task is now so large it's insurmountable."
The Herald: "Celtic's Parkhead fortress was reduced to rubble in the last 16 of the Champions League by a formidable Juventus team which delivered a brutal, wounding result. Two late goals took the sting out of the loud complaints Celtic would otherwise have voiced about the leniency shown to the Italians by referee Alberto Undiano Mallenco."