Football Talk: Man City want Wanyama, Pirlo's vow, Pat Butcher
Football Talk loves you all so much that we've rounded up the day's best stories.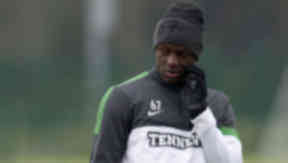 All is fair and love in war and in football. Even on Valentine's Day.
Just when you thought Kenny Shiels' relationship with Scotland's officials was back on track, he goes and spoils it by having a row.
Manchester City and Manchester United are battling to win the heart of Celtic's Victor Wanyama by offering cash instead of flowers or chocolates.
With feelings hurt in the Parkhead dressing room after a row between Kris Commons and Efe Ambrose, Kelvin Wilson has put his arm round the Nigerian's shoulder to tell him everything is going to be alright.
Andrea Pirlo is still nursing heartache after losing the 2005 Champions League to Liverpool, so he's refusing to discount the prospect of a Celtic comeback in their round of 16 second leg.
It was all action in Madrid as Fergie and Mourinho shared a cosy night in. Manchester United's ex showed them what they used to have while their new squeeze David De Gea impressed.
Top of the Scots
£52m Ed boy! City to break record for Napoli ace Cavani and also eye Bhoys star Wanyama
Roberto Mancini is ready to splash the cash this summer after a poor season so far (Daily Mail)
Gary Hooper targets summer move to Tottenham as he plots Celtic exit
Spurs are looking to come back in for the forward. (Metro)
Celtic stopper Kelvin Wilson backs Efe Ambrose to bounce back from Juventus horror show
Wilson insists he wasn't surprised his central defensive partner began the game despite only returning from the African Nations Cup a day earlier Daily Record).
Juventus star Andrea Pirlo: Celtic aren't beaten yet.. I should know after losing 3-0 lead to Liverpool in the final
Midfield maestro Pirlo admits the pain of losing a 3-0 lead in the Champions League final with AC Milan eight years ago means he won't be taking Celtic lightly in the second leg in Turin (Daily Record).
Rangers a year on from administration: Ex-director Paul Murray opens his heart on the battle to save his beloved club
Exactly a year since Rangers plunged into administration, Paul Murray talks to the Daily Record.
One year on: Timeline of the week Rangers fell into administration
A look back at the events of February 2012 and beyond.
Shiels sent off again!
The Kilmarnock boss had another row with the officials during his team's draw with Inverness CT.
Hearts confirm skipper Marius Zaliukas to miss the rest of the season
The defender will miss the League Cup final after tearing ankle ligaments.
Who else would you want to meet on Valentine's Day?
We Just bumped in to one my idols ... #patbutcher @hopeakpan twitter.com/JemKaracan4/st…

— Jem Karacan (@JemKaracan4) February 14, 2013
It's Hang Time
Cristiano Ronaldo rises to big occasion with impeccable timing
Real Madrid's talisman debunks theory he doesn't perform in big games by scoring against his former team-mates (The Guardian)
Marc-Andre ter Stegen to sign for Barcelona
The Borussia Monchengladbach keeper will join the Catalan giants according to reports in Spain (Marca)
Chelsea's Petr Cech to face old club Sparta Prague with broken finger
The goalkeeper will make an overdue return to Sparta in Chelsea's Europa League tie on Thursday (The Guardian)
Liverpool join City and Spurs in the race for Sampdoria striker Icardi
The forward looks set to join Inter Milan but Liverpool thought they would join the party anyway (Daily Mail)
Welcome to the Matrix
David De Gea's sliding save against Real Madrid (101greatgoals.com)