Celtic can beat Juventus but qualification would be 'minor miracle'
Neil Lennon will instruct his players to highlight any 'wrestling' by Juventus to the referee.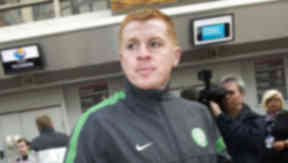 Celtic manager Neil Lennon has said that his players can deliver what would be a memorable victory over Juventus in Turin but admits qualification is unlikely.
Juventus were 3-0 winners in Glasgow in the first leg, meaning Celtic would need to match that scoreline to force extra-time, or better it to qualify.
Lennon said that scenario would be "a minor miracle" but was hopeful of winning the match.
"It would be a tall order to win the tie 4-0 or 4-1, but we are capable of winning the game and that's what we would like to do," he said.
"If we win we would it would equal the club record [of wins in Europe in a season].
"Juventus are top of the league again and the draw could have been kinder to us, but we want to close the gap on the scoreline and we will have to play at our optimum level to do that.
"It is a fantastic game to play in. We may not be here again as a group, you are playing the champions of Italy who are a very good team so enjoy it.
"Enjoy the stadium, enjoy the atmosphere, don't be intimidated.
"Go and play. The pressure is really off so try to restore some respectability in the tie, play your football and win the game.
"So we have a lot to play for, there are a lot of incentives. However, to qualify would take a minor miracle."
Lennon said that Juventus had been worthy winners of the first leg and that it would be dangerous to adopt a gung-ho approach to turning the tie around.
"They are a class side with fantastic players but we played well and were unfortunate not to score," he said.
"These [Juventus] players are top class players, you can't go out all guns blazing."
The manager confirmed that Georgios Samaras was fully fit and ready to play a part and that Charlie Mulgrew had also recovered from injury. However, the defender may not yet be fit to start as he has only recently returned to training.