Scottish Football League clubs to hold reconstruction vote by April 19
The ballot of 29 member sides is scheduled to be held on the same week as the SPL makes its decision.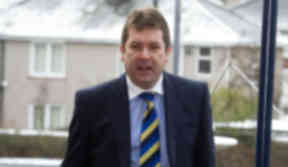 Scottish Football League clubs will hold their deciding vote on league reconstruction no later than Friday, April 19.
STV understands that following talks held by the Scottish FA's Professional Game Board between the SPL and SFL on Tuesday, SFL sides intend to make their choice in the same week as their SPL counterparts.
SPL clubs will hold their vote on April 15 with the vote of 11 out of 12 top flight teams needed to approve reconstruction plans. In the SFL, 22 out of 29 eligible sides must vote in favour.
In a statement, the Scottish FA said of their meeting: "[Our] position on league reconstruction is clear: Scottish football requires urgent, radical change in its league structures as a first, essential step to rejuvenating the national game.
"To that end, in order to provide greater comfort to both sides, we have agreed to undertake a period of due diligence on behalf of both the SPL and SFL to provide independent verification of projected distributable revenue of any single league body."
A meeting of SFL representatives last week cast doubt on whether their vote will be successful, with a 14-14 split decision of those present at Hampden. Dunfermline Athletic were not present, while Rangers can not vote because of their associate member status.
Both leagues are trying to push through plans to merge into one body, change the financial distribution model in the Scottish leagues and implement a 12-12-18 league structure in time for the 2013/14 season.
It is understood the nine First Division clubs present at Hampden last week, exasperated by the prospect of reconstruction proposals collapsing, then held a meeting with SPL chief executive Neil Doncaster to discuss the possibility of instead joining the existing top flight.
The findings of a survey of supporters conducted by the Scottish FA published on Tuesday showed 87% of those surveyed wanted a bigger top flight than the 12-team division currently in place and which would be maintained under reconstruction plans.