Aiden McGeady accused of trashing dressing room following red card
The Spartak Moscow star could face police action after being accused of "hooliganism".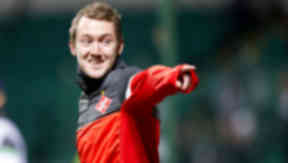 Aiden McGeady could face police action after being accused of smashing up a dressing room following a red card while playing for Spartak Moscow.
Former Celtic player McGeady scored in a match against Mordovia Saransk but was later sent off following an off the ball incident with opposition defender Vladimir Bozovic.
After leaving the field, McGeady is alleged to have caused damage to the dressing room and may be charged by the police.
"McGeady literally crushed everything in his path," Oleg Sagaidak, the deputy director of Saransk Stadium said.
"After he was sent off, he kicked in a pitch microphone, argued with the fans, then booted the door to the dressing room.
"He didn't just kick it, he smashed it in again and again until it broke.
"I've seen the damage and so has the match commander and the police. It has caused widespread outrage. It's disgraceful hooliganism. The man has spat on our hospitality."
Sgadiak said Saransk officials would speak with their counterparts at Spartak before deciding if they would press for McGeady to be charged.
"Spartak fans already broke the seats and burn flares and now their players are destroying our property?," he added.
"What McGeady did falls under the criminal act of hooliganism. We have every reason to go to the police to press charges.
"We will need to discuss the matter with Spartak."
Spartak Moscow coach Valeri Karpin admitted he didn't know the facts because he was currently serving a ban that kept him from the dressing room.
However, he said McGeady had admitted to a loss of discipline and could face club action.
"He acted stupidly and irresponsibility," Karpin said. "There was no need to wave his fists and demand a fight, we cannot get the three points back now.
"He told me he lost control and he will be punished.
"I honestly don't know what happened to the dressing room because I am currently banned and aren't allowed to go in there. But we will find out."