Celtic receive £22.2m in Champions League payments from UEFA
The club received less than projected because of a drop in the UK TV market pool.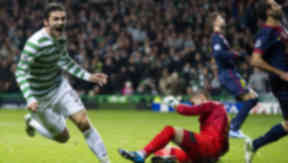 Celtic made £22.2m from UEFA for their participation in the 2012/13 Champions League.
Neil Lennon's side's financial reward for a run to the last 16 of the competition has been confirmed by the governing body, as it announced a total payout to clubs of £778.4m last season.
The total payout to Celtic was £1.1m less than initially projected because of a fall in the total amount of money paid into the UK market pool compared to 2011/12.
English clubs shared a UK pot of £74.5m between them in 2011/12 in the absence of a Scottish club in the group stage but that TV pot fell to £69.4m in 2012/13, with the Scottish entrant receiving a predetermined 10% slice.
With the UK market pool having stood at a stronger £80.1m in 2010/11, that means Celtic received £1m less than Rangers did in TV money for participating in the competition two years previously.
The reigning Scottish champions received a total broadcast payout of £6,930,000 from UEFA for 2012/13.
Celtic also received an untouched £13.4m in prize money from UEFA for their run to the last 16, adding to the £1.8m they also received for featuring in the play-off round.
The final figures do not include gate receipts received by Celtic in the competition.
UEFA final payments to Celtic in detail
| | |
| --- | --- |
| Play-off participation | £1,800,000 |
| Group stage participation | £4,560,000 |
| Match fees | £2,830,000 |
| Final TV market pool | £6,930,000 |
| Performance bonuses | £3,000,000 |
| Last 16 qualification bonus | £3,000,000 |
|   |   |
| Total to date | circa £22,000,000 |