Celtic fined by UEFA over supporters' use of fireworks in European tie
The European governing body has taken action over incidents in the match against Cliftonville.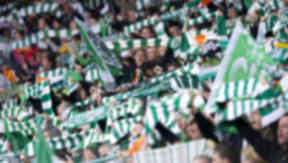 UEFA have fined Celtic for their supporters' use of fireworks during their Champions League match with Cliftonville in July.
The club were found guilty of breaching article 16.2 of the governing body's regulations during the match at Parkhead and have been fined £4221 (€5,000).
The case was heard on August 22 but UEFA did not confirm the sanction until September 10.
Following the match,Celtic had admitted the fireworks were used during the game in a section housing the Green Brigade supporters group, causing the referee to ask the club's safety officers to intervene.
In a statement issued in July, the club said: "Three fireworks were exploded within Section 111, causing the Match Referee to require a stadium announcement to be made instructing such behaviour to stop.
"As a result of this unprecedented step by a match official, Celtic FC will now be the subject of a disciplinary action for contravention of the UEFA Safety and Security Regulations."
Celtic supporters also used flares in their summer friendly with Brentford, leading to manager Neil Lennon asking them to reconsider their use.
He said: "The Celtic fans were a little over-exuberant. The heat, a few beers but it was a carnival atmosphere. I would like them to maybe leave the flares out."
The club were last punished by UEFA in March 2012, fined £21,000 after supporters displayed an offensive banner and set off flares during a UEFA Europa League tie away to Udinese in December 2011.
At the time, Celtic chief executive Peter Lawwell and manager Neil Lennon deplored the actions of what they deemed to be a "rogue element" of the club's support.
Celtic were also fined £13,000 for "illicit chanting" in the same competition during a match with Rennes.
In contrast, their fans were widely praised for a "party atmosphere" by the Italian football media after their UEFA Champions League last 16 away to Juventus earlier this year.
Article 16.2 of UEFA's disciplinary regulations state: "All associations and clubs are liable for the following inappropriate behaviour on the part of their supporters and may be subject to disciplinary measures and directives even if they can prove the absence of any negligence in relation to the organisation of the match.
"[This includes] the invasion or attempted invasion of the field of play, the throwing of objects, the lighting of fireworks or any other objects, the use of laser pointers or similar electronic devices, the use of gestures, words, objects or any other means to transmit any message that is not fit for a sports event, particularly messages that are of a political, ideological, religious, offensive or provocative nature, acts of damage, the disruption of national or competition anthems, or any other lack of order or discipline observed inside or around the stadium."