Football Talk: Vine hits out at Lennon, Killie star recovering in hospital
Are you reading this daily digest of football headlines right?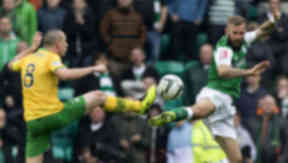 Oh Twitter, you lovable rogue. What have you been up to now?
Some cheeky verbals between a player and a manager from one of the biggest games of the weekend in Scotland - oh, okay then.
Rowan Vine took the accusation that his "robust" approach was out of line in the Hibs v Celtic game badly, and felt the internetz was the only place to put things straight.
But was Neil Lennon reading it right?
Top stories
Kilmarnock star Rabiu Ibrahim still in hospital after collapsing in Rugby Park win over Ross County
The midfielder is receiving treatment but manager Allan Johnston says there is no immediate concern. (Daily Record)
James Forrest: Celtic will 'go all out' for win over Ajax
After defeat in two Champions League games so far, Celtic target three points against the Dutch aces. (The Scotsman)
Denis Bergkamp: Ajax lack an a***hole
And Tuesday's opposition may lack something they need if they are to succeed at Celtic Park. (The Sun)
Butcher rails at 'bizarre' Jags win
A disallowed goal in strange circumstances left Terry Butcher perplexed. (The Courier)
Rangers' future has been complicated by conflict but peace can still break out
Richard Wilson examines the latest developments form the Ibrox boardroom. (The Herald)
Bantz
Read Sir Neil Lennon's comments regarding tackles in y'days game and said my tackle was 'rugby-esque'..I mean I know he likes the snus....

— Rowan Vine (@aslrowanvine) October 20, 2013
But has he been smoking something else..I hardly touched the boy and there were no 'reckless' tackles in the game..

— Rowan Vine (@aslrowanvine) October 20, 2013
Might get me mate Alan Shearer to send him another size 9 Umbro Speciali in the dish if he don't pipe down...

— Rowan Vine (@aslrowanvine) October 20, 2013
@aslrowanvine Did I read that right

— Neil Lennon (@OfficialNeil) October 20, 2013
Watch match highlights from the weekend's Scottish Premiership
Aberdeen 1-0 Dundee United
Hibernian 1-1 Celtic
Inverness CT 1-2 Partick Thistle
Kilmarnock 2-0 Ross County
Motherwell 2-1 Hearts
St Mirren 4-3 St Johnstone
Put that in your pipe and smoke it, critics
Seven second wonder: Fastest MLS goal in history