Celtic keen on clean sheet record
Neil Lennon is delighted with his side's solidity and says that breaking a clean sheet record is extra motivation for his defence.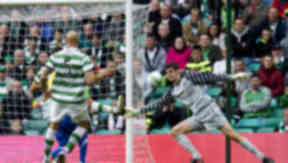 Celtic's defensive record has been a source of pride for manager Neil Lennon and he has said that the players are hoping to keep it tight at the back for the remainder of the season.
The Hoops have managed 20 clean sheets in the SPL so far this season and are now just two shut-outs away from equalling the league record set by the Celtic's team of 2001/02. Lennon said that he had been pleased with how his defensive unit had gelled so far.
"I don't want to put the kiss of death on it but we have defended very, very well," the manager said.
"There's a good understanding and with [Daniel] Majstorovic coming back into the team that brings extra experience and solidity.
"But whoever we've asked to come in, whether it's [Glenn] Loovens, [Thomas] Rogne, [Charlie] Mulgrew, Cha [Du-Ri], Willo [Mark Wilson], they've all done exceptionally well."
Fraser Forster has been in goal for 18 of the 20 clean sheets this term, with Lukas Zaluska between the sticks for the other two matches. Lennon said that closing in on the record was giving the players further determination.
"Fraser is obviously eyeing this clean sheet record and he's not far away from breaking it," Lennon added."I think that's a source of motivation for them as well."
One central figure has been Charlie Mulgrew, who started the season at fullback but moved into the middle in January and has kept his place despite others returning for injury. Mulgrew has said he is now comfortable in the position but Lennon said that his player was versatile enough to be a success in other areas of the pitch.
"He's certainly played consistently well," he said. "There's more strings to his bow than playing centre-back but he's comfortable there.
"He's got a good size, he's a decent athlete, he brings good balance to the back four with his left foot and he gets us playing from the back. His defending has improved greatly as the season progressed, he's taken on a more physical aspect to his game.
"For the future he could play there, possibly. He could play in central midfield as well and he can play left side so I wouldn't say he is bedded down as a centre-half. He's proved this season that he can play there quite comfortably."