Celtic set to complete signing of Holmbert Fridjonsson on three-year deal
The Scottish champions will sign the 20-year-old Icelandic for £100,000, STV understands.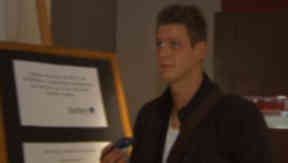 Celtic are set to complete the signing of Icelandic striker Holmbert Aron Fridjonsson.
STV understands the 20-year-old has agreed personal terms on a three-year contract and will officially join from Fram when the January transfer window opens.
Fridjonsson is in Scotland and will formally complete his £100,000 move within the next 24 hours. Celtic also have the option to extend his contract for a fourth year.
Although he is unable to formally conclude his transfer until January, the Iceland Under-21 international, who scored 12 goals in 23 appearances for his club in the 2013 season, will begin training with Neil Lennon's side at the start of December.
His representative, Olafur Gardarsson, spoke to STV on Tuesday, with the player himself reluctant to talk until his deal is concluded on Wednesday.
"He is a striker that scores goals," said Gardarsson. "I think he is a very promising player, to say the least.
"He is very delighted. He went on trial with a club in Holland and he liked it there. But he liked it here. He felt very welcome and he obviously was liked by [Neil] Lennon, so he is very pleased.
"He is confident. He knows he has to work hard and the season in Iceland was over two months ago. So he is not match fit. He knows he has to work hard and it is not easy to walk into a club like Celtic. But he will do his best."
Despite the player's relative inexperience, Celtic boss Lennon believes he is capable of pushing immediately for a spot in the first team after watching him at close quarters during a trial last month.
"He is one for the present," Lennon said last week. "He is a good player for his age, a good size, we had him in for a week's trial and were hugely impressed by him.
"It is not a huge outlay but we think he is a player who will get better and at 20, he has very good potential.
"Technically he is very good, he is excellent in the air, he leads the line very well and, for the Scottish game, he likes the physical side of thing as well."