Ajax hit with €20,000 UEFA fine for 'crowd distubances' at Celtic Park
The Dutch club were also fined this month for an offensive banner at the Amsterdam ArenA.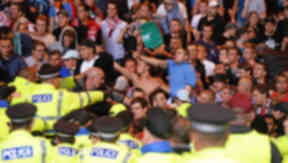 UEFA have fined Ajax €20,000 (£16,690) for the misconduct of their supporters during their Champions League game in Glasgow.
The Dutch club were accused of breaching the governing body's disciplinary regulations for "crowd disturbances and throwing of objects" by their travelling fans.
According to Ajax, the club will also be made to pay for the damage caused when fans ripped out seats at Celtic Park during their game on October 22.
The club say this amount is "similar" to that the governing body have ordered them to pay.
A statement from Ajax read: "In recent years, Ajax have been punished regularly, mostly for the lighting of fireworks. Besides the financial damage that causes the club, such misconduct also harms the image of Ajax and football in general.
"This applies to unlawful conduct in the stadium, but especially when it occurs in the inner city. Ajax will continue to act in order to prevent this misbehavior and punish [those responsible]."
They were also fined €25,000 (£20,872) by UEFA this month because of their supporters, after it was ruled an "offensive banner" was shown during their match at the Amsterdam ArenA on November 6.