Neil Lennon brands Rangers' Lawwell complaint a 'hoo-ha over nothing'
Chief executive quipped 'Rory Bremner can pretend to be Tony Blair' when asked about Ibrox side.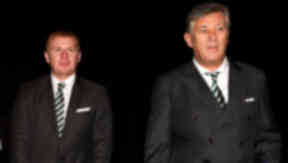 Neil Lennon has described Rangers' complaints over comments made by Celtic chief executive Peter Lawwell as a "storm in a teacup".
At Celtic's Annual General Meeting, Lawwell was asked why some refer to Rangers as a club in existence since 1872, rather than a new club because of the liquidation of the company operating the club in 2012.
The chief executive's quip of "Rory Bremner can pretend to be Tony Blair" drew a response from the Ibrox side in which they said they would report the matter to the Scottish FA.
The governing body are yet to take any action but the Celtic boss said he believed their actions were "a bit over the top".
He said: "It's a storm in a teacup. No more than that.
"It was a throwaway remark. I don't know what he meant by it, you'd need to ask Peter that.
"You've got to be so PC these days regarding a lot of topics. Everything I think has made it a mountain out of a molehill.
"I know from my own experience. I've said a few things in the past and I've suffered for it, if you want to put it that way, afterwards.
"It's a lot of hoo-ha over nothing."