Campbell Ogilvie hits out over lack of 'respect' between Celtic and Rangers
The Scottish FA president has criticised the Glasgow clubs for their actions following Peter Lawwell's comments.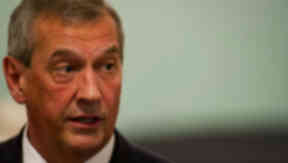 Campbell Ogilvie has criticised both Celtic and Rangers for "an apparent erosion of mutual respect" between the two clubs.
Parkhead chief executive Peter Lawwell was reported to the Scottish FA for comments made about the Ibrox side at his club's AGM.
Asked why some refer to Rangers as the same club, rather than a new club following the liquidation of the company in 2012, Lawwell retorted: "Rory Bremner can pretend to be Tony Blair".
Those comments led to a complaint by Rangers to the Scottish FA's Compliance Officer Vincent Lunny.
Scottish FA president Ogilvie says that while no action can be taken against Lawwell for the remarks, he has criticised both parties for their behaviour and for wasting the governing body's time.
Ogilvie's statement read: "This week, the Scottish FA's Compliance Officer has reviewed comments made by the Celtic chief executive, Peter Lawwell, at the club's Annual General Meeting, after receiving an official letter of complaint from Rangers Football Club.
"The Compliance Officer has informed both clubs that there is no actionable breach of the rules. Nonetheless, I am compelled to convey my disappointment that we find ourselves in this position, as a result of an apparent erosion of mutual respect between two of our oldest rivals.
"At a time when Scottish football faces challenges on many fronts, it is incumbent on our biggest clubs to set the highest standards. In this regard both the comments made, and the subsequent time, effort and resource imposed on our Compliance Officer to deal with the complaint, were wholly unnecessary."