Celtic won't underestimate 'wounded animal' AC Milan, insists Neil Lennon
The Italians are 13th in Serie A but have pulled off results in the UEFA Champions League.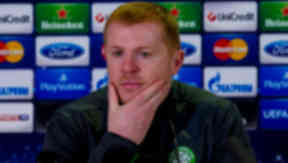 Neil Lennon says Celtic won't underestimate AC Milan's threat when the two sides meet again on UEFA Champions League business on Tuesday night.
The Italians were 2-0 winners at the San Siro earlier in the season but their domestic form has paled in comparison to their European performances, with Massimiliano Allegri's men currently 13th in Serie A.
The Rossoneri have won just three of their 13 league games this term against a backdrop of off-field turmoil but Lennon, whose side must win to keep their qualification hopes alive, says they are still a top side.
Asked if it was a good time to face AC Milan, he replied: "Possibly. Or they could be a wounded animal and that's always a dangerous proposition no matter who you face.
"They'll have their pride. And they have some world class players like Balotelli, Kaka, Robinho, Montolivo, Muntari... I'm going through the whole squad.
"These players are class acts and they have been at the top level of the game for a period of time.
"If anyone thinks that we are underestimating them, think it is a really good time and it's going to be a comfortable home win, they are going to have to think again.This team are dangerous."