Peter Lawwell hits out at fans' 'disrespect' after UEFA banner charge
The Celtic chief executive criticises 'small minority' for 'tarnishing' reputation of the club.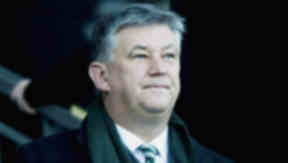 Celtic chief executive Peter Lawwell has accused a section of the club's support of showing "clear disrespect" after UEFA opened disciplinary proceedings over an "illicit banner" displayed during Tuesday's match with AC Milan.
The governing body are taking action against the Scottish champions for the fourth time in two years over the behaviour of their fans, with a hearing set for December 11.
On the banner, unfurled before the match, images of William Wallace and Bobby Sands were shown alongside the message: "The terrorist or the dreamer? The savage or the brave? Depends whose vote you are trying to catch or whose face you're trying to save."
Celtic have also condemned separate banners shown prior to their Scottish Premiership game with Aberdeen on Saturday.
The Scottish Professional Football League confirmed on Wednesday they had received complaints about the banner at the Aberdeen game and have launched their own investigation.
Lawwell, who says such banners have no place at Celtic's ground and described his organisation as "non-political", has demanded no repeat of actions he says damage the reputation of the club.
"There have now been a number of UEFA charges made against the club during the last three years, relating to behaviour, displays and pyrotechnics," Lawwell said in a statement. "It cannot go on any further.
"Let's be very clear. Following the actions of a small minority, these charges are made against the club.
"It is the reputation of Celtic, our great club and our great fans which is damaged, while others carry on indulging in such behaviour.
"Our supporters do not want this any more. We are a non-political organisation, a top football club in fantastic shape, aiming to play its part as a major football club on the European stage.
"Regardless of the political views people hold, football stadia, whether it is Celtic Park or anywhere else, should not be used to promote these.
"This is something which all football authorities, including UEFA, have stressed for some time and something well known by all supporters.
"The club don't want it, our manager and our team don't want it, our supporters don't want it and the football authorities don't want it. It has to stop.
"Celtic is a world-class football club and rightly proud of its wonderful reputation in the game. This is a reputation hard-earned by our supporters over many years. We cannot and will not allow this reputation to be tarnished any further."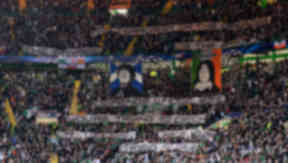 In a statement from Celtic, the club said they had prior assurances from the group in question that all displays would be purely football-related.
"During the last two matches at Celtic Park, banner displays have taken place which have not been approved by Celtic Football Club.
"These were displays which were in no way football-related and which have no place at Celtic Park.
"Celtic Football Club can confirm that any individual or group identified as being involved in any form of political display at a match involving Celtic will be banned immediately from attending matches involving the club.
"With regard to last night's display, the club made it abundantly clear in advance to the group in question that only football-related displays would be permitted and that any political display would lead to a UEFA charge.
"We, in turn, received an assurance that all displays would be 100% relevant to Celtic. Therefore, the actions of this group are clearly very disappointing. We have been inundated with complaints from Celtic supporters regarding the display.
"Celtic does more now than it ever has to liaise with and support the numerous fans' groups which exist.
"We have encouraged and facilitated all groups and their support for the club through various initiatives. It is clear, however, that by some at least this courtesy has not been reciprocated."
A spokesman for the SPFL said: "We have received complaints regarding a certain banner at the Celtic vs Aberdeen match on Saturday November 23. We are currently investigating the matter to determine if any action is required."