Craig Bellamy won't drop wage demands for Celtic move
Manchester City striker says his charitable work means he has to keep his current salary.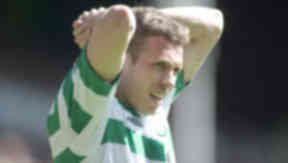 Celtic target Craig Bellamy has revealed that he won't lower his wage demands to leave Manchester City because he supports a charity in Sierra Leone that needs his money.
The striker is out of favour at Eastlands and spent last season on loan at hometown club Cardiff City. The Championship side, Celtic and English sides are all keen on landing the player but his reported £80,000 per week wages are a barrier.
Celtic boss Neil Lennon has admitted that the player's demands make his chances of bringing the player back to Parkhead "remote". Bellamy's insistence that he wants to keep his current remuneration will increase the possibility that he will remain on the books at Manchester City but could be loaned out again.
Asked by The Telegraph if he would consider a wage cut to move elsewhere, Bellamy insisted that was not an option.
"No chance, that is impossible," he told the newspaper.
"I have my own academy [in Sierra Leone] where I have to take care of 13 children, day in, day out. My wages are more important to them, than they are for me."
Bellamy also said that a loan deal was not appealing to him or City but suggested that City would pay out the remainder of his contract, in which case Cardiff City would be his first choice destination.
"To be honest, I do not want to go on loan again, because where would I go after that?" he said. "After another loan period my options would be probably reduced.
"A permanent move would be the best, but it would have to be somewhere wealthy, so I can guarantee future earnings for my charity, but that would be difficult with my current wages.
"If they [City] pay me my final year of my wages, then I'm sure I can go wherever I want. In that case, my first option would be Cardiff, to give it another go. But is has to be feasible, the financial health of the club is the most important thing."