Celtic boss defends pursuit of Leigh Griffiths after fan criticism
Neil Lennon used the example of Scott McDonald as a player who made the step up.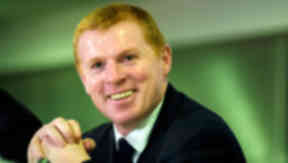 Neil Lennon has defended his pursuit of Leigh Griffiths, insisting the Wolves forward could emulate Scott McDonald and deliver both at home and in Europe.
Fans took to social media in their droves on Monday to criticise Celtic's negotiations for the 23-year-old, with an initial bid having been rejected by Wolverhampton Wanderers.
Many feel the attempts to land Griffiths indicate a lack of ambition from the club and their manager, something Lennon flatly denied.
"We haven't got him in yet," said the Celtic boss. "He might change people's perspectives.
"I'm not here to argue with supporters about who we are bringing in.
"We feel he is a good player. I think he'll do very well here if he does come in.
"Scott McDonald came from Motherwell a few years ago and scored a huge amount of goals.
"He went on to score in Europe as well. I think Leigh can do the same."
Griffiths has netted 13 times in 32 appearances for Wolves this season but has fallen down the pecking order at Molineux.
The Scotland international has a solid scoring record in Scotland's top flight, scoring 39 goals in 78 appearances across two seasons on loan at Hibernian, and Lennon is clear on what he could bring to the Celtic team.
"Goals," he replied. "He had a fantastic season last year. I think he has improved as a player and there is scope for him to get better."
Asked on how a possible deal was progressing, Lennon added: "I have no idea. All I know is there was a bid went in.
"So we have made our intentions clear and the talks will keep going now for however length of time it takes to get a resolution one way or another.
"We will see if we can get a deal thrashed out."