Neil Lennon: I've done nothing to deserve the abuse I receive
The Celtic manager has hit out at critics claiming he 'attracts' trouble away from the pitch.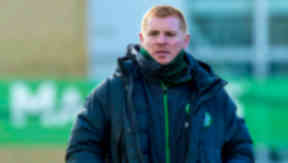 Neil Lennon has hit back at critics who have suggested he is in some way to blame for abuse he has received off the park.
The Celtic manager allegedly had coins and a drink thrown at him while he was in attendance at the Scottish League Cup semi final between Aberdeen and St Johnstone at Tynecastle last weekend.
Police are investigating the incident which is the latest attack on the Northern Irishman, who has been subjected to attacks on his car, death threats, assaults and receiving bullets in the post, as well as a letter-bomb campaign which led to two men being jailed.
"I'm not happy with some of the stuff that has come out regarding myself in terms of journalists saying, 'He attracts it, it's his controversial, confrontational nature'," said Lennon.
"For me, that's very irresponsible. I am no more confrontational than any other manager in the SPFL. However, when it's an issue regarding me, it seems to be imbalanced.
"You cannot have people throw coins at you when you are sitting there trying to do your job. And yet some people in the back of their minds think it's my fault. Why this happens, I don't know.
"In the past there is no question there were sectarian elements to what happened to me. People want to bury their head about that. I don't, I want it said and I want something done about it.
"Last week there was no evidence of a sectarian element, but certainly a hooligan element.
"I look at some of the comments. 'He was a thug on the pitch'. No I wasn't. I never lifted my hand to anyone, never two-footed anyone, never elbowed anyone.
"I played the game aggressively, which was my job.
"'He brings it on himself.' In what way? Do I go down the street looking for it? Anyone who knows me away from football knows the type of person that I am.
"Anyone who knows me within the game knows that I want to win, and I'll do anything I can within my power to do that.
"People don't like it and people use other excuses to vent their fury on me."
Lennon also called on others in positions of power to work to try and change the public perception of his character.
"I have certainly tried to do that and it's not working," he said.
"I don't think the condemnation is enough. Sometimes I get the feeling that, 'It's Lenny, he can take it, he's a stand-up guy, he's a street-fighting man'. All that crap. I'm fed up with it.
"I don't go street-fighting. I look after myself and my friends and family. I live my life as quietly as I can away from football but I'm in the public eye.
"But a lot of the stuff has been almost life-threatening and the condemnation has been nowhere enough."
Asked if whether he was considering his position as Celtic boss, Lennon responded: "I don't know, I don't know. It's a lot to give up and I don't really want to do that if I can avoid it."
After a pause, he added: "No, it hasn't come to that point yet, certainly not. What will determine it is if things go wrong on the pitch. And that will be determine by other people, not me.
"It may be my decision further down the line, but I'm not picturing that scenario. I want to be as successful as I can for as long as I can.
"I love being the manager of Celtic. It's a privilege, an absolute honour. And I don't want to give it up because I worked very, very hard to be in the position I'm in.
"That's the reason why I haven't walked. It's a prestigious job, a precarious job if you look at what's going on in England, a lot of sackings.
"Being the manager of Celtic, there are only 17 other people who have done it, and that means a lot to me."