Referee Steven Craven loses appeal against lifetime ban
The former SPL linesman has failed to gain permission to be allowed to officiate at amateur level.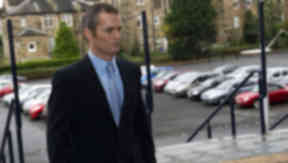 Referee Steven Craven has had an appeal against his ban from the game rejected by the Scottish Football Association.
The former SPL linesman, who resigned from top flight appointments following his involvement in the infamous 'Dougie, Dougie' incident, had hoped to continue as an official at amateur level.
Craven though was suspended from taking charge of games at any level by his association and, following an appeal at Hampden on Wednesday, has been prevented from regaining his membership.
A statement read out by his lawyer to STV outside Hampden said: "My client is shocked and disappointed by the SFA's decision.
"My client maintains that the original decision of the Glasgow Referee's Association to subject him to a lifetime refereeing ban was wholly disproportionate."
Craven was the linesman as Celtic faced Dundee United at Tannadice last year, in a game remembered for referee Dougie McDonald's decision to overturn a penalty given to the visitors and the resulting fall-out.
The official said in the aftermath that McDonald had attempted to cover up how the incident occurred, with Craven later speaking out in the press to give his version of events.
He subsequently resigned from officiating in the top flight but continued to referee amateur fixtures, before being banned by the Glasgow Referees' Association, reportedly for speaking out, a decision which prevents him from being involved at any level.
"Dougie [McDonald] ran towards me and said: 'I think I've f***|** up.'," Craven told the Sunday Mail in October 2010.
"After the game Dougie said we should tell the referee supervisor [Jim McBurnie] that I called him over to question the penalty award.
"I went along with it because I wanted to be supportive of Dougie. But then Neil Lennon came in after the game and asked Dougie why he hadn't given the penalty kick.
"We told Neil the version that was a lie. It was wrong to lie. And I'm not proud that I went along with Dougie's suggestion."
IN DETAIL