SPL chief 'open-minded' on safe standing
Neil Doncaster says he would like to see the possibility of safe-standing sections at top flight grounds explored.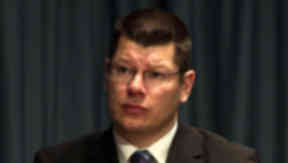 Scottish Premier League chief executive Neil Doncaster says he would like consideration to be given to the return of standing at top flight grounds.
Celtic are currently looking into the feasibility of creating a safe-standing section, following a proposal at their recent AGM from their Supporters Trust.
"Personally, I am open-minded about it," Doncaster said at a Real Radio roadshow in Glasgow on Wednesday.
"It would need a change in SPL rules, ditto in SFA rules, because both sets of rules prohibit standing in the top division.
"But I think we should remain open-minded about it. I would like to see it explored. That is not an SPL position - that is a personal position."
Only SPL rules forbid standing sections in the stadiums of top flight clubs, with no legislation in Scots law preventing terracing.
Top flight stadiums in Scotland have been all-seated since 1994. To enforce a change in the rules, eight of the SPL's 12 member clubs would have to vote in favour of any plans.
IN DETAIL