Celtic reinstated in Champions League play-offs after Legia forfeit
Ronny Deila's side through after Polish opponents fielded a suspended player.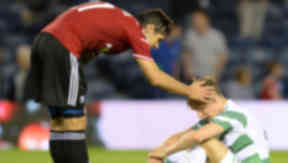 Celtic have been reinstated in the 2014/15 UEFA Champions League after third qualifying round opponents Legia Warsaw were forced to forfeit their second leg.
The Polish side fielded a player who should have been suspended, Bartosz Bereszyński, as a substitute with four minutes to go in the 2-0 victory at Murrayfield.
UEFA rules state any side found guilty of fielding a suspended player are to forfeit the match in question.
After a meeting of the governing body on Friday morning, Celtic have been awarded the second leg 3-0, levelling the aggregate score in the tie to 4-4 and allowing Ronny Deila's side to progress on away goals.
Celtic will be in the hat as seeds for the play-off round stage of the UEFA Champions League on Friday. Legia Warsaw have the right of appeal.
Legia's president Bogusław Leśnodorski tweeted the verdict on Friday, simply saying "I failed".
The mix-up by Legia lies in the exclusion of Bereszynski from their squad for the two second qualifying round matches with St Patrick's Athletic earlier in the competition.
The player was due to serve a three-match suspension after a red card in the UEFA Europa League last term and Legia believed his absence from the two games, as well as the first leg against Celtic, cleared him to play in Scotland.
However Bereszynski was not included on Legia's squad list submitted to UEFA for the St Patrick's Athletic games.
As a result, his suspension was not served and, following his subsequent inclusion on the squad list to face Celtic, he should have served the second of his three-match ban in the tie at Murrayfield on Wednesday night.
A statement from UEFA confirmed Celtic's progression. "The UEFA Control, Ethics and Disciplinary Body has met today and announced the following disciplinary decision following the 2014/15 UEFA Champions League third qualifying round tie in Edinburgh between Celtic FC and Legia Warszawa on 6 August 2014," it read.
"Legia have been sanctioned for fielding an ineligible player (article 18 of the UEFA Champions League regulations and article 21 of the Disciplinary Regulations). The match has been declared as forfeit meaning Legia Warszawa have lost the match 3-0.
"As a consequence, Celtic have qualified for the UEFA Champions League play-offs on away goals (agg: 4-4) and Legia will compete in the UEFA Europa League play-offs.
"In addition the player Bartosz Bereszynski has been suspended for one additional UEFA competition match for which he would be otherwise eligible.
"This suspension shall be added to the remaining two match suspension which the player still has to serve in accordance with the Control and Disciplinary Body decision of 13 February 2014."