Tennent's Sixes 1993: Video highlights, part two
The conclusion to Scotland's indoor football tournament.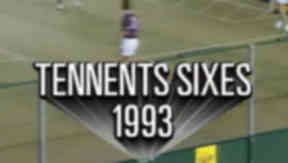 **Yesterday's video of the 1993 Tennent's Sixes caught people's imaginations and prompted an online call to "Bring back the Sixes". **
That may remain a distant dream for now but in the meantime you can enjoy the conclusion to the last tournament at the SECC.
After a hard-fought conclusion to the group stages, including a controversial decision that Murdo McLeod called "the strangest decision he ever saw", four teams took their places in the semi-finals.
Pre-tournament favourites Celtic were drawn against an Airdrie side that were thriving with Owen Coyle in deadly form. In the other semi-final a Partick Thistle side enjoying the backing of a noisy support were facing St Johnstone.
With legendary presenter Jim White in the studio and Gordon McQueen providing analysis, there were tense scenes ahead as the tournament came to a conclusion.
Nobody knew it at the time but the trophy was to remain in the winner's possession for the next 19 years. Will the eventual champions ever be forced to defend their title? We can only hope so.
MORE TENNENT'S SIXES