Football Talk: Mystery wig man, Black to leave Hearts, Hodgson for England
The top stories from Scottish football, as well as the best in reading and watching from the game.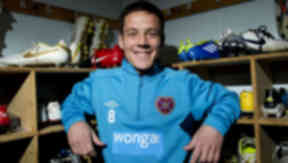 It's tough at the top but it is even tougher at the bottom.
Dunfermline finally recorded a home SPL win and so the spotlight turned to Hibernian who lost 1-0 to St Mirren.
Meanwhile the Scottish Premier League will vote on a range of new rules designed to ensure financial fair play by its member clubs.
The proposals will be considered at a meeting of all 12 SPL member clubs and could lead to a raft of new rules being introduced at the end of this season.
The FA have caused a stir by announcing their intention to speak to West Brom boss Roy Hodgson about the England manager's job.
Elsewhere the man everyone was talking about after yesterday's Glasgow derby plus why Carles Puyol and Len Goodman will never be friends.
TOP STORIES
SPL clubs set to vote on new financial fair play proposals at Hampden
The 12 member clubs will have their say on a raft of new rules, which could be introduced next month.
Ian Black wants to end his Hearts career on a high after club announce his departure
The midfielder will leave the Tynecastle club at the end of the campaign after being told he won't be offered a new contract.
**Paul Dixon looks south as he confirms he will leave Dundee United **
Full back pledges to give '110%' in final games to get Arabs third place in SPL (Daily Express)
**Joe Cardle says Dunfermline's fighting spirit can keep them in the SPL **
The winger feels the Pars can avoid relegation (Daily Record)
MUST SEE
This gentleman certainly raised eyebrows at Celtic Park yesterday.
MUST READ
Roy Hodgson for England is a shock choice and maybe the wrong one
Daniel Taylor argues the FA has shown courage in eventually overlooking Harry Redknapp but the decision could come back to haunt the panel (The Guardian).
[Mid-table: A trove of untapped talent][6]
Tom Pyman believes there are many talented players at mid-table teams being overlooked (Lovely Left Foot)
MUST WATCH
Carles Puyol breaks up Thiago-Dani Alves dance celebration
The Barcelona defender wasn't happy with his team-mates' celebration against Rayo Vallecano (101greatgoals.com)
[6]: http:// http://lovelyleftfoot.com/2012/04/27/mid-table-a-trove-of-untapped-talent/