What the Italian papers are saying about Celtic v Inter Milan
John Guidetti was an Inter fan, Mancini to give Kovacic his chance and more from the Italian press.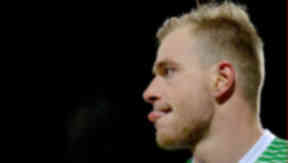 Inter Milan are preparing to face Celtic in their eagerly anticipated Europa League tie and competition is one that the struggling Italian side are keen to make their mark in.
With the Serie A side having struggled early in the season, Roberto Mancini has been brought in to restore the reputation of a side that were European champions just five years ago.
Former Manchester City boss Mancini has been working hard to turn around their form and he sees winning the Europa League as the best route into next season's Champions League.
As you would expect, it's a story that is seeing plenty of coverage in Italy with the press speculating over Mancini's team selection. They have also taken an interest in Celtic and John Guidetti in particular.
STV has rounded up the latest news from Italy as the countdown to kick-off continues.
John Guidetti was an Inter fan
Several sites, including FC Inter News are quoting a Gazzetta Dello Sport interview with Celtic forward John Guidetti.
The striker has revealed an affection for Inter and that was strengthened during Sweden star Zlatan Ibrahimovic's time at the San Siro.
"They're a favourite of mine," he is quoted as saying. "When I was little I favoured Inter, I also had the shirt."
Guidetti, who has Italian relatives, had a trial with Inter when he was 13 and also trained at Sampdoria but the biggest Italian influence on his career was Roberto Mancini at Manchester City.
Will Mateo Kovacic start at Celtic Park?
With over 60 appearances for Inter by the age of 20, there's no doubt that Kovacic is one of the stars of the future but the Croatian midfielder has lost his starting place in recent weeks.
Gazzetta is reporting that, with Lukas Podolski and Marcelo Brozovic cup-tied, Kovacic will have a key role to play on Thursday night.
Getting ahead of yourselves
This year's Europa League winners get direct entry to next season's Champions League. Inter only have to get past the Scottish champions, win their last 16 tie, quarter final, semi-final and the final itself to make that dream a reality. So it's only natural that Corriere dello Sport is reporting on how they will spend their Champions League riches. Mauro Icardi might leave but in would come Palermo's Paulo Dybala, Man City star Yaya Toure and Kenedy, a youngster who is wonderfully described as "the jewel of Fluminense".
Inter are ready for the Celtic Park atmosphere
Plenty of big-name European players have said that the experience of playing in the East End of Glasgow on a European night is a memorable one. Inter's David Santon is prepared for it though, saying it might be loud but that his time at Newcastle will stand him in good stead.
"It will be difficult to play in a stadium like this with many fans that will push Celtic by singing throughout the game in a very similar atmosphere to the one I found in the Premier League," he said.
Lukas Podolski plays Cupid
The German forward isn't able to play against Celtic, with Inter having chosen to register Xerdan Shaqiri instead. If he's at a loose end this week he can at least take consolation from the fact he's made someone happy, after Corriere dello Sport revealed that a couple are getting married after meeting on Podolski's Facebook page.