Where are they now? Celtic and Dundee Utd stars from last League Cup Final
One graduated with a first-class honours degree while another got a tattoo of a footballer's face.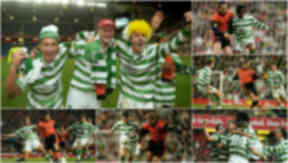 Remember the days the League Cup was wrapped up before Christmas? It used to be the norm until recently, which would explain why the last time Celtic and Dundee United met in the final the cup was presented under the floodlights.
The date was November 30th, 1997 and the sides were meeting at Ibrox because Hampden was closed for renovation.
Celtic ran out 3-0 winners with Marc Rieper, Henrik Larsson and Craig Burley scoring the goals.
It was Wim Jansen's only season in charge of the Hoops, but while they won the League Cup for the first time in 15 years under his reign, it'll be the league triumph later that season he'll be remembered for – stopping Rangers winning 10 in a row.
But we'll stick to the cup final for the time being and while everyone looks forward to this weekend's Hampden showdown, we're taking a step back in time.
So who, out of the 28 who featured that afternoon are still involved in football? Who used to sell fish for a tenner at his hotel, who dressed up as Terry the Terror and who won a league medal last week?
Celtic
Jonathan Gould
English goalie Jonathan Gould (who made two appearances for Scotland because of the grandparent rule) had quickly become Celtic's new number one after signing four months prior to the cup final. He wasn't able to keep his place under Martin O'Neill though and eventually succumbed the jersey to Rab Douglas. He ended his career in New Zealand and went into coaching there but is back on home soil again after signing as West Brom's new goalie coach last month.
Stephane Mahe
Well-liked left-back Stephane Mahe often struggled in defence but won over the fans with his runs down the wing. He's remembered for his red cards against Rangers; the Scottish Cup one ending in tears, literally, and left not long after the Martin O'Neill revolution. He went to Hearts for two years and then into management back home at Saint-Nazaire until 2007. What's he done since? Well your guess is as good as ours.
Jackie McNamara
A player who's been on the radar a lot more than Mahe since that 1997 final is Jackie McNamara. He went on to captain Celtic and complete a full decade at the club before playing for Wolves, Falkirk, Aberdeen and Partick Thistle. He then moved into management at the Jags. Oh, and he's the current Dundee United boss... So if Sunday's game needed an added edge to it, he could be about to win his first trophy as a manger against his former club.
Marc Rieper
Scorer of the first goal that day, Marc Riper won two trophies in his first season at Celtic but struggled with injury and eventually had to announce his retirement not long after. He returned to Denmark and owned a hotel with his wife for five and a half years before selling it on in search of a new challenge. It's now known as Hotel Ferdinand and if you fancy visiting then expect good location, but a less than average night of quality sleep.
Tom Boyd
Mr Celtic loves to chat about his former club and is a regular analyst and co-commentator on their own channel, Celtic TV. The defender spent a decade at the Parkhead side and enjoyed his testimonial against Manchester United in 2001. After retiring he tried his hand at coaching, taking the Celtic Under-17s but hasn't pursued it since. Let's not kid ourselves though, he'll always be remembered for scoring for Brazil in the World Cup and singing 'We Are The Champions' in a jester hat.
Alan Stubbs
You're not getting three guesses at where Alan Stubbs is these days. The former centre-back took over at relegated Hibs in the summer and has since steered them back on course after a shambles end to last season. They're also now debatably favourites, ahead of Rangers, to win promotion back to the Premiership via the play-offs. Stubbs left Celtic in 2001 to join his boyhood heroes Everton.
Craig Burley
He may have sealed Celtic's win that afternoon with a glancing header but if there's one player from this list of 14 who wouldn't be welcomed back to Parkhead with open arms it's Craig Burley. The ESPN pundit left Glasgow in 1999 to play down south, but did have a brief spell at Dundee before hanging up his boots. He's since passed the time by winding up the Celtic support with his questionable views. He also lost a bet recently and had Fernando Torres' face tattooed on his arm.
Hate pundits that suck up to former clubs for the sake of a slap on the back. Got no balls.

— Craig Burley (@CBurleyESPN) February 23, 2015
Ex Celtic & Chelsea player Craig Burley gets Fernando Torres tattoo after losing a bet [Video] http://t.co/Lp1iZY9zQa pic.twitter.com/fJHjM89rPr

— 101 Great Goals (@101greatgoals) January 21, 2015
Morten Wieghorst
Morten Wieghorst and his fantastic Lochee/Danish mixed accent departed Celtic in 2002 after making a miraculous recovery from Guillain-Barre syndrome. He played a big role in the 1997/98 season but injuries held him back after it. He was dismissed as Swansea City assistant manager a year ago and has since been hired as the boss of Danish 1st Division side Aarhus Gymnastikforening. (Try getting that in Scrabble). A year after leaving Celtic Wieghorst deliberately missed a penalty in a friendly between Denmark and Iran. Watch the video here:
Andy Thom
Andy Thom was 30 when he joined Celtic – that doesn't sound too old but by then he'd already made 51 appearances for East Germany. After the reunification he played for Germany in a further 10 matches but didn't earn another cap after his time in Glasgow. Thom has since been involved in coaching at Hertha Berlin, most recently in charge of the Under-17s. He is not, however, the same Andy Thom, "Moustache Man", who leads training regimes for Tough Mudder, unfortunately.
Regi Blinker
A player who sparks mixed memories for the Celtic support, Regi Blinker made over 50 appearances before leaving in 2000. Having struggled with retirement he decided to start his own business to help fellow aging players. Wanting to give them food for thought he started 'Life After Football' which not only produces a lifestyle magazine, but also weekly episodes focusing on former players. These have included Pele, Henrik Larsson and Ronald De Boer.
Henrik Larsson
We don't have to fill you in on what Henrik Larsson did during his time at Celtic do we? Here's a clue...goals, goals, goals and eh, more goals. And a lot of silverware too. He netted Celtic's second in the 1997 League Cup Final, not long after arriving as an unknown from Feyenoord. He's now back in Sweden managing Helsingborgs, the club his son plays at. Yes, that wee boy who did the lap of honour around Celtic Park after his dad's last game in 2004.
CELTIC SUBS
Enrico Annoni
There's an art to the Glasgow poetry proclaimed whenever Enrico Annoni came on as a substitute. "Aw naw, no Annoni oan anaw noo" has become one of these well known phrases that everyone's mate came up with first. The Italian defender hung his boots up in 1999 after his Celtic days came to an end and he went into coaching back home. He was recently appointed assistant manager at Serie B side Calcio Catania. And he's still backing the Hoops...
Go celtic don't give up pic.twitter.com/VLU9k9KTnR

— enrico (@enrico6) February 19, 2015
Simon Donnelly
Simon Donnelly has always been Jackie McNamara's right-hand man, whether it's on the pitch or off it. The friends were together at Celtic, Partick Thistle and the national team before their current gig at Dundee United. And like McNamara, Donnelly could win his first silverware since hanging up his playing boots with the team he beat in 1997. The assistant manager at Tannadice made over 150 appearances for the Hoops.
Paul Lambert
Celtic's Champions League winner hasn't been far from the limelight since leaving the Parkhead club in 2005. He joined Livingston for a short spell before retiring and managing the team instead. He worked his way through the ranks in England before taking over Norwich City where he guided them to two consecutive promotions and into the Premier League. He then managed Aston Villa but was sacked from that role just last month.
DUNDEE UNITED
Sieb Dijkstra
Back in the day before Georgios Samaras advertised shampoo and James Dayton set the beard benchmark, goalkeeper Sieb Dijkstra was flaunting the luscious locks of Scottish football. He became known for his pencil 'tache and playing up to the crowd. The cult hero returned to Scotland 14 years after leaving United for a charity event with his other former club Motherwell. It was then he played with a group of fans in a supporters' match.
Maurice Malpas
The Dundee United legend, who spent his entire career at Tannadice, finally hung up his boots in 2000 after two decades of playing the game. He didn't lift the cup that afternoon in 1997 but left with a fair few honours to his name - a UEFA Cup runners-up medal being one of them. In more recent times Malpas has been the assistant manager at Hibs before joining Raith Rovers as director of football last Christmas. This is not the real Malpas and he may or may not agree with the sentiment...
Director of Football means I can play subbuteo in my office and nobody questions it.

— Maurice Malpas (@Maurice_Malpas) December 27, 2014
Steven Pressley
The defender hasn't been far from the headlines since leaving Dundee United in 1998. He joined Hearts for almost a decade, became the captain and acted as spokesman for the players in response to issues affected by Vladimir Romanov's ownership. He then moved to Celtic and added to the Scottish Cup medals he won with Rangers and Hearts – setting a new record. He's since coached with Scotland, managed Falkirk and was sacked as Coventry manager last month. He also promoted Safeway's finest fruit...
Magnus Skoldmark
Magnus Skoldmark is remembered for his two goals – one that helped win a Dundee derby and the other that sent United into the Scottish Cup semi-final. The 1997 final against Celtic was just months into his spell at Tannadice and he stayed there until moving onto GAIS in 2000 for three seasons. Since retiring he's taken up the post of club director at the Swedish side.
Mark Perry
After a decade at Tannadice Mark Perry went on to join his boyhood heroes Aberdeen, but he wasn't able to make the same impact there. Slowly burning out, the defender faded away down the leagues, subsequently featuring in all five levels of the Scottish game. But a twist in the tale saw him come out of retirement two years ago (at the age of 42), to help his first club Cove Rangers during an injury crisis.
Erik Pedersen
Norwegian defender Erik Pedersen is a cult hero around Tannadice after his three years at the club. He was inducted into the Hall of Fame in 2011, six years after retiring from the game back in his native land. He returned to Scotland for the 2010 Scottish Cup Final and was given a warm welcome in a supporters' club. He also has a tattoo of the club badge so he's well and truly cemented a place in the Arabs' hearts.
Dave Bowman
Sitting 10th in United's all-time appearance chart, Dave Bowman earned legendary status within his 12 years at the club. He was no stranger to being disciplined either though, notably receiving a record seven match ban for swearing at officials. He's since joked he'd only last five minutes if he was playing in today's game because it's "gone soft." Bowman had a spell at Livingston as assistant manager before returning to Tannadice as a community coach in 2007. He turned 51 earlier this week.
Lars Zetterlund
Who broke the Arabs' hearts long before he won them over? Lars Zetterlund of course. He played for Gotheburg when they beat Dundee United in the 1987 Uefa Cup Final. But continuing the influx of Scandinavian talent that helped push United back up to the top half of Scotland's top division, the Swede got the supporters on his side. He's now a youth development coach at Swedish side Orebro SK.
Craig Easton
Airdrie kid Craig Easton made a name for himself when he stepped up to the Dundee United senior side in the mid '90's and played there for almost a decade. After moving down to England's lower leagues he took up an unusual hobby for someone of his profession. Studying Professional Sports Writing and Broadcasting at Staffordshire University, Easton graduated with a first-class honours degree. He's since been writing for various newspapers, magazines and websites. Stuart Armstrong's not the only smartie pants to grace the Tannadice dressing room then...
Robbie Winters
Striking sensation Robbie Winters made his debut for Dundee United in 1996 and almost two decades on he's still playing. At 40 years old the East Kilbride lad is now playing against his local side for Rossvale Juniors and it was just last weekend he was celebrating the Central District second division title. He scored two of their goals in the 4-2 win to move then 19 points clear at the top. And yes, that's him on his team-mates' shoulders...
Well done @rossvalejuniors lads. Played well and deserved the win.#Winners pic.twitter.com/S4w7BOvAEE

— Allan Picken (@brackenskye) March 7, 2015
Party time Mon the vale pic.twitter.com/Xu0M99VNYu

— Rossvale juniors (@rossvalejuniors) March 7, 2015
Kjel Olofsson
The most successful spell in Swedish striker Kjell Olofsson's career was his three years at Dundee United. He made just over 100 appearances and netted just under 50 goals, finishing top scorer for the club, and second top in the league, in 1997-98. At the start of the '00's he made a surprise return to Tannadice in the form of club mascot Terry the Terror. It wasn't until they revealed the lion's "real identity" and he removed his head, did the fans realise who it actually was.
DUNDEE UNITED SUBS
Jamie Dolan
On a sadder note, Jamie Dolan, who was a substitute in the 1997 cup final passed away in 2008. He made over 50 appearances for United but was best known for his 10 years at Motherwell. He played his whole career in Scotland, hanging his boots up after a season at Partick Thistle. He died of a heart attack at the age of just 39 though, a fear he was said to have after his father also passed away at a young age.
Gary McSwegan
Goalscorer Gary McSwegan spent most of his career in Scotland and particularly enjoyed success with Hearts and Kilmarnock after leaving Tannadice in 1998. He started at Rangers, finished with Clyde and notched up two caps for Scotland. He now helps coach kids through the charity A&M Training which former team-mate Andy McLaren co-founded. It's designed to lower crime in poorer areas and give children the chance to play for free.
Mikael Andersson
Remember Mikael Andersson? Nope, not many do. The Swedish midfielder joined United on-loan from his hometown club Orebro in November 1997. He was only to be there for the month so subsequently made just three appearances. The League Cup Final against Celtic wasn't one of them either, he was an unused sub and returned home 24 hours later. There's a press officer at Transport Agency in Orebro called Mikael Andersson. Whether this is the Mikael Andersson, though, is yet to be confirmed...